Half of journeys in Barcelona by car, up 23 points since before pandemic, study says
EAE Business School report says Catalan capital has 6,000 cars per square kilometer, double Madrid or Paris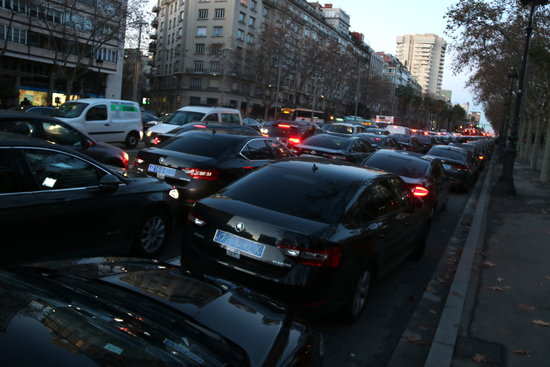 Journeys by car account for 47% of all journeys in Barcelona, an increase of 23 percentage points since the beginning of the pandemic, according to a study from EAE Business School: 'The impact of the pandemic on the management of global cities in the 21st century. Challenges and changes. The case of Barcelona'.
The study also found that Barcelona allocates 60% of public space for the use of cars, despite the fact that, before the pandemic, only one in four trips was made by private vehicle. It also indicates that there are 6,000 cars per square kilometer in the Catalan capital, twice as many as in Madrid or Paris.
Cafe, bar and restaurant terraces
Despite this increase in car use since the outbreak of the pandemic, Barcelona is leading the way in Spain in terms of the creation of outdoor terraces for cafes, bars and restaurants, with 1,300 new terraces created where previously there was on-street parking. Some 4,500 parking spaces have been replaced by terraces in Barcelona. As a comparison, Madrid has created 582 new terraces, replacing 1,318 parking spaces.
In total, 66% of cafes, bars and restaurants in Barcelona have expanded their outdoor seating areas and 33% of establishments which previously did not have a terrace now do so, adding 10,000 tables and 40,000 chairs to the city's al fresco dining scene, from areas previously occupied by vehicles.
"As a result of the abrupt changes in mobility caused by the arrival of the pandemic, tactical urban planning has been employed in most large cities," Chelo Morillo, professor at EAE Business School and author of the report, explains. "Tactical urbanism aims to redefine and reuse urban spaces according to need," Morillo says, adding that the changes can be temporary or permanent. "It is a question of transforming the urban space in an easy, simple and economical way using street furniture, signaling areas with paint, plant pots, etc., so that it can transform the original use of that place for a new use for residents."
Barcelona also leads the way in Spain in terms of new cycle lanes in the last year, with 21km, followed by Madrid with 12km. The European ranking is led by Paris with 165.7km, followed by London with 75km, Brussels with 26.5km and Berlin with 24 km.
Listen to our podcast on tactical urbanism in Barcelona below.