Half as many homeless seasonal fruit pickers in western Catalonia this summer
Lleida council rents out 18 reduced priced homes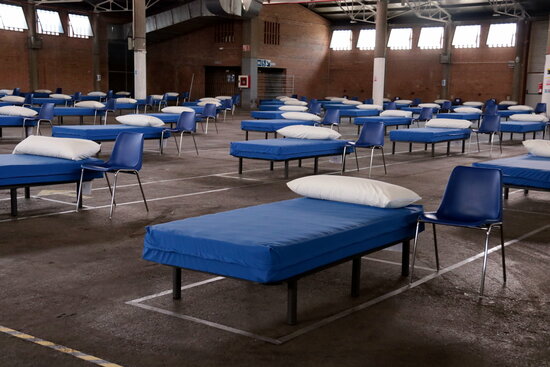 The number of homeless fruit pickers in the western Catalan city of Lleida has significantly decreased this summer compared to the same time last year.
In 2020, the council registered 14,563 overnight stays at the Fira Lleida shelter, a number that is considerably higher compared to the 7,513 in 2021.
According to the council, there are not as many homeless workers this year due to better planning and coordination, despite the pandemic.
As of early June, the Fira Lleida shelter has 122 beds, showers, luggage storage and a laundry facility and also provides workers with meals. In addition to this, workers can get tested and vaccinated at the shelter.
However, in order to be able to have access to the facility, seasonal workers have to pass a social assessment carried out by the Lleida city council.
Moreover, and for the first time ever, this year the city council has rented out 18 reduced priced homes that cost 4 euros per night.
There are 62 men living in these homes, and while there is also a flat only for women, it is currently only being used by 3 of them.
Seasonal workers
Every year, 30 to 35,000 seasonal workers come to the Lleida area. Last year farmers feared more stringent travel restrictions would keep the workers they needed away - but their repeated calls for workers ended up having the effect of attracting far more people than needed.
This year, however, adverse weather conditions have brought crop yields down and only some 25,000 people are needed this season, translating into fewer people traveling to Lleida in search of work and fewer homeless people trying to make ends meet in the fields.
Filling the Sink podcast
Press play below to listen to the Filling the Sink episode on seasonal workers in Lleida and street vendors.