Further extradition hearings for Catalan ministers in exile
Scottish judge postpones decision over Ponsatí until at least August, while Comín, Serret and Puig will testify in Belgian court on April 18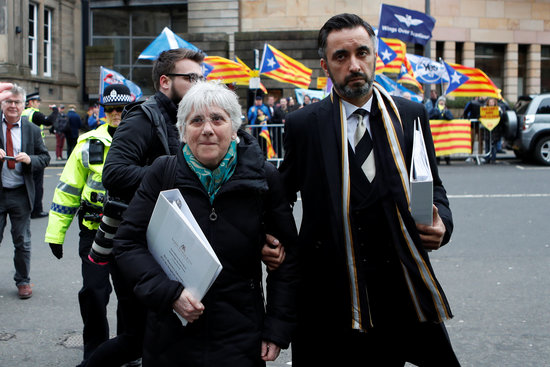 Extradition processes for four members of the deposed Carles Puigdemont cabinet are moving forward. The Scottish court deciding on Clara Ponsatí's situation decided to postpone its decision until at least August after a hearing on Thursday morning. The judge summoned her for May 15 and July 5 for further preliminary hearings, while the final extradition hearings will take place starting July 30, for up to 8 days. A decision regarding her case is not expected until after all these sessions come to an end.
Meanwhile, the three deposed ministers currently in Belgium will face court on April 18 at 9am. Lluís Puig, Meritxell Serret and Toni Comín will testify in the Chambre du Conseil, in Brussels.
The judges in Scotland and Belgium decided to keep the officials free during their extradition processes, ruling out pre-trial prison. Meanwhile, European arrest warrants issued by the Spanish Supreme Court loom over their heads. The deposed president Carles Puigdemont was also granted freedom, while German justice decides on his case. The general prosecutor in Schleswig-Holstein land has now to decide whether to ask for his extradition in the high court of the same region. While all five are free in three different countries, six more Catalan deposed members are in pre-trial jail in two Madrid prisons.
'A grotesque distortion of the truth,' claims Ponsatí's lawyer
The deposed Catalan minister Clara Ponsatí appeared in court in Edinburgh, Scotland, on Thursday morning. In statements to the press immediately following Ponsatí's hearing, the defense for deposed education minister, Aamer Anwar, denounced the European Arrest Warrant as a "political persecution" of his client and "a grotesque distortion of the truth."