Evictions for unpaid rents rose by 3% last year
Yet, number of court orders to evict homeowners due to mortgage foreclosures fell by 1.4% in 2018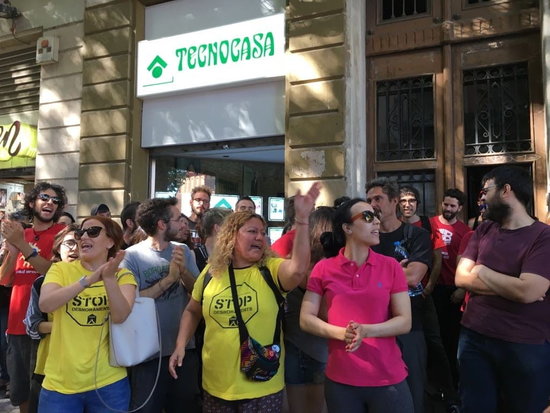 Evictions for unpaid rents in Catalonia rose by 3% last year to 8,877, according to figures for 2018 from the General Council of the Judiciary.
However, evictions due to mortgage foreclosures fell by 1.4%, to 3,778.
Catalonia is the autonomous community in Spain with the most evictions due to unpaid rent, and second in terms of unpaid mortgages.
Last year, courts in Catalonia received 463 unlawful detainer applications to remove non-paying tenants, of which 172 were resolved.
Although courts issued 3,778 eviction orders for mortgage foreclosures last year, a total of 5,771 eviction applications were made. While the figure is higher than the 4,635 in 2017, it is far from the 18,567 applications in 2012, during the height of the financial crisis.
In Spain as a whole, there were some 59,671 evictions, 1.8% less than the previous year. Some 62.5% (37,285) of the evictions were due to unpaid rents, 31.7% (18,945) due to mortgage foreclosures, and the remaining 3,441 for other reasons.
Measures to "protect" tenants
Also on Friday, the Spanish government passed a decree limiting annual rent rises to increases in the consumer price index (CPI), and extending the obligatory period for renewing rental contracts from three to five years.
Spanish vice president Carmen Calvo said the measure aims to find a "balance" between landlords and tenants, while "protecting" the latter. The decree will have to be approved in the Spanish Congress, and is likely to get the support of the Podemos, ERC and PDeCAT parties.