Emotional reunions in Reus: airport welcomes its first arrivals
Hugs and kisses all round after regular flights return from Britain and Ireland for first time in 8 months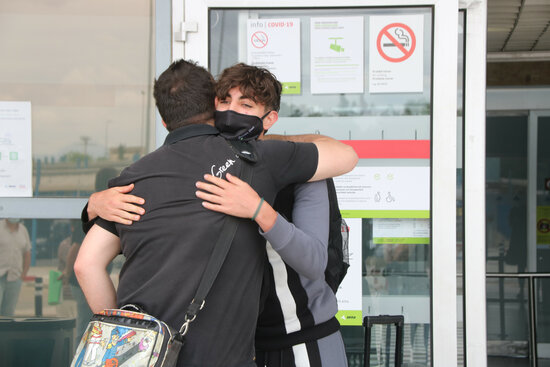 Reus airport in Catalonia has welcomed its first flights in 8 months, with two Ryanair arrivals from Shannon (Ireland) and London (UK). Although this marks the start of the tourist season, the airport was rife with relatives awaiting their landing loved ones, with many people meeting their grandchildren for the first time.
Tears were flowing as families were reunited after a year and a half of not seeing each other, ever since the pandemic prevented a lot of free movement. For a lot of families, they have only been able to communicate virtually, seeing each other just through a screen.
However, as an impassioned passenger, Lou Wallas, put it to ACN: "To meet again face to face is different". Wallas and her husband, a London couple, travelled to Reus to meet their youngest granddaughter, Poppy, for the first time. After a year and a half without seeing her, Wallas said, "it was worth the wait".
The couple only plan to stay in Catalonia for a week this time, but plan to return at the end of the month to celebrate the child's birthday in-person. This will also inevitably be to the joy of their eldest granddaughter, who greeted her grandparents with a bouquet of flowers and a homemade welcome banner.
The significance of touching down in Reus was shared by many. For example, Marina Dinyan, living in London but originally from Maresme in Catalonia, has taken advantage of the ability to travel to introduce her baby to relations here. Similarly, Daniel Borrero, living in the British capital but from Tarragona, has travelled to meet his goddaughter for the first time. Although he has to return soon for work reasons, he stressed that he will "make the most out of these days to be with [his] family".
On Tuesday, another flight arrived from Brussels, and on Wednesday, another will land from Manchester.
No restrictions for UK passengers
Spain lifted all limitations and health checks on arrivals from the UK from May 24, meaning that travellers no longer need a negative PCR test to enter the country.
The first arrivals from Britain at Barcelona El Prat airport after the change in rules were thrilled to be able to travel to Spain more freely again, one passenger saying: "I come to visit friends and family, and it's really easier to travel if you don't need to have passed a test."
Spain, however, is not on the UK's 'green list' of countries, but rather it is considered an 'amber' country, meaning Brits will be required to quarantine for 10 days once they return.
These travellers are also required to take a Covid-19 test before they return, and another two tests while in self-isolation on arrival in the UK (on or before day 2 and on or after day 8), in addition to completing a passenger locator form.