Could plants and insects replace meat as the main source of protein in Catalonia?
60% of protein consumed worldwide could be plant-based by 2040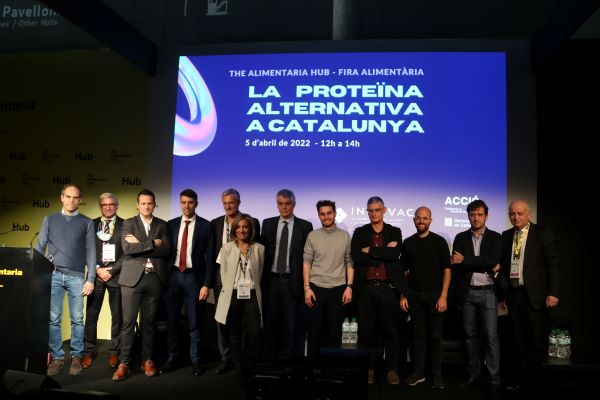 Plant-based meat may well be the future of protein consumption in Catalonia, as was outlined in a series of talks entitled 'Alternative Protein in Catalonia' that took place at the Alimentaria food and drink trade fair on Tuesday.
One of the many gastronomical talking points up for discussion at the exhibition, which began on Monday, was the future of the industry, especially in the context of sustainability and protein.
In fact, it is estimated that by 2040, 60% of the meat we will consume will not be of animal origin.
It is less a question of want but more "about a need", said Jordi Calbet during his presentation about his company, Iberinsect, a biotechnology startup from the southern Catalan city of Reus specializing in the cultivation of mealworms, which transform local vegetable raw materials with nutritious ingredients for animal feed.
Growing demand on an ungrowing planet
Many of the Catalan companies present at the event highlighted the looming issue of providing protein to a world with more and more people despite the same amount of space for livestock.
For example, it is estimated that by the year 2050, protein consumption will have increased 70%, although land available will only go up by 5%, according to Iberinsect.
The shift has already begun
Indeed, this is the way the world seems to be heading, as Director of Clusters at the Catalonia Trade & Investment government agency, ACCIÓ, Alberto Pezzi, pointed out that by 2040 traditional 'meat' is predicted to make up just 40% of the global meat market, with the vegan meat replacement and cultured meat industries set to grow continuously. This is vastly down from the current figure of over 90%.
Even now, 62% of consumers are now willing to reduce their meat consumption for environmental reasons, according to a survey by NielsenIQ, and 43% say they would replace meat-based protein with plant-based protein.
There are essentially three main motivations for switching to plant-based protein: the environment, health and animal welfare.
It goes without saying that meat consumption does more to damage our planet than plants, the particular culprit of this is beef, as 72% of all greenhouse gas emissions from animal meat come from cows alone.
'Making' meat with plants
However, the task of convincing consumers to make the switch to alternative meat sources is by no means easy, as in order to convince the carnivores, the substitutes still have to resemble meat.
Many of the companies stressed that this is hard to achieve, given the very unique texture of meat. However, food tech startup Novameat outlined the process of extrusion, a technology for texturizing vegetable protein into a product with fibrous texture like animal meat. Food engineer Joan Solomando highlighted Novameat's 'microextrusion' method, which employs the 1960s extrusion technology, but on a much smaller, cellular level, to achieve the right texture.
Once this is achieved, there lies the steep task of not just changing trends in Catalonia, but the whole world.
Jaume Planella Busquets, R&D corporate director at Noel Alimentaria charcuteries, identified it as a "global challenge".
However these companies, with their numerous employees, partners, yearly revenues in the dozens of millions of euros, and international presence, have certainly been "finding innovative solutions", according to Carinsa Group Director Jordí Solís, laying the foundations for plant-based meat to not just become an alternative to their traditional counterparts, but to eventually be, as Heura Foods CEO Marc Coloma pointed out, the "successor".
The session was jointly hosted by ACCIÓ, and INNOVACC, the Catalan association of innovation in the pig meat sector, whose partner companies constituted the speakers at the conference.