First Alimentaria food industry fair in four years kicks off in Barcelona
3,000 exhibitors expected to attract 100,000 attendees and €180 million from April 4 to 7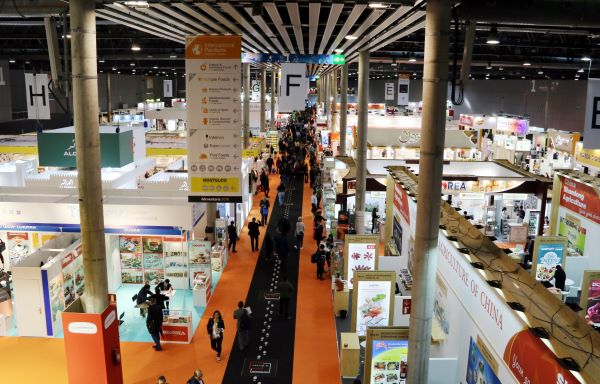 The Alimentaria food industry fair is back for the first time since 2018. On from April 4 to 7 at Fira Gran Via in L'Hospitalet, near Barcelona, the event organizers expect to attract some 100,000 attendees – more than the Mobile World Congress – and have an economic impact of €180 million.
After multiple pandemic-related postponements in 2020 and 2021, the biennial event will see 3,000 exhibitors from the food and beverage industry display their products.
Alimentaria will be divided into 10 sections based on product type and origin: dairy products, international pavilions, lands of Spain, meats, restaurants, snacks and sweets, Mediterranean foods, as well as new trends.
There will also be some 200 food-related activities, from business talks to cooking demonstrations and workshops or discussions on industry trends, such as plant-based cooking and sustainability, as well as an olive oil self-service bar.
International participants
400 exhibitors are from 52 foreign countries and territories, including Brazil, Slovakia, Canada, the United Arab Emirates, Australia, and Puerto Rico, which will have their own pavilions for the first time ever.
There will be no Chinese companies in attendance, however, as Covid cases are on the rise in the country, nor will Russia be present: unlike the Mobile World Congress, where event organizer GSMA removed the Russian pavilion and urged the country's companies to not attend due to the invasion of Ukraine, Russian participants withdrew from Alimentaria weeks ago of their own accord.
More vegetarian and vegan options
"We have identified a growing trend towards diversifying protein sources," Maria Sánchez, the head of marketing for Noël, one of the companies at the fair, told the Catalan News Agency on Monday. This Catalan firm has launched a line of plant-based sausages and hamburgers for "flexitarians" who eat meat on occasion.
According to Sánchez, vegans make up 0.8% of the market, while people who identify as "flexitarians" have grown from 8% to 11% in two years.
Joan Cortadelles, of AlterVego, another company at the fair, explained that he launched his company a year ago after picking up on a "paradigm shift" as more people are giving up meat out of environmental and animal welfare concerns.
"It's a market a lot of people talk about and there is a lot of interest in it, but volumes are still low although they have grown to two-digit figures," he said.