Civil groups slam Spain's human rights record on eve of UN review
Spanish government's handling of Catalan conflict among points included in Wednesday's Universal Periodic Review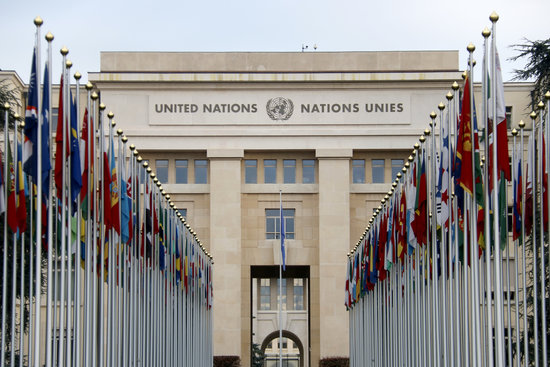 Only a day before the United Nations' Human Rights Council examines Spain's human rights performance, a group of civil organizations have condemned "the regression of the right of expression and assembly" in the UN member state.
Wednesday sees Spain undergo its Universal Periodic Review, a mechanism introduced in 2006 to evaluate the human rights record of the 193 UN member states, with a number of civil organizations calling for reform of Spain's criminal code and security laws.
Catalonia's Institute of Human Rights (IDHC), International Trial Watch (ITW), Òmnium Cultural, EuroMed Rights, the European Civic Forum, and the Defender a quien Defiende (DqD) platform warned of the "deterioration" of rights in Spain, in Geneva on Tuesday.
The group of organizations also criticized Spain's treatment of the Catalan independence leaders sent to jail for sedition, and expressed concern about gender violence, racism, discrimination, the detention of immigrants, and children's rights in Spain.
Catalan independence case
For the European Civic Forum, the jailing of the independence leaders is a "worrying precedent" for its use of the criminal code "against civil demonstrators," and the group warned that such practices could cause a "domino effect in Europe."
The ITW, which observed the trial of the leaders, said the Catalan independence case is "one of the major examples" of the restrictions placed on civil society in Spain, because it shows that "the criminal code has been used to repress peaceful protests."
Meanwhile, Òmnium accused Spain of "not complying with its international obligations" in the area of human rights, demanding an investigation into police brutality during the 2017 independence referendum and "a political solution" for Catalonia.
Scrutiny of human rights in Spain
Wednesday's session will begin with a Spanish government delegation explaining what action has been taken to improve the human rights situation. Representatives of UN member states will then highlight Spain's strong and weak points and give recommendations.
The concerns about Spain's handling of the situation in Catalonia, such as those expressed on Tuesday, are included in the UN's preliminary report. However, there is no obligation for the member states conducting the examination to bring them up.
Every UN member state must submit to a Universal Periodic Review every four and a half years. The states are examined by a working group of the Human Rights Council that is made up of representatives of other UN member states.
Wednesday will be the third time that Spain has undergone the review. After the session, the UN grants a day of reflection before passing the working group's recommendations, with Spain then having to say which of them it accepts and aims to improve.