Chinese community plays key role in health material supply
Business links enable rapid chartering of flights carrying PPE from China to Catalonia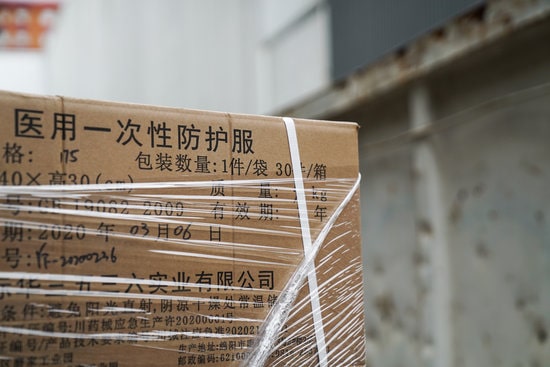 With global demand for Personal Protective Equipment (PPE) through the roof, the Chinese community in Catalonia has been playing a key role in securing vital orders for the government and Barcelona city council.
China was, of course, the first country that had to deal with the outbreak of the new coronavirus, Covid-19. When the epidemic reached Catalonia, members of the Chinese community were quick to draw on their experience to provide practical support.
"We have received countless offers of help and donations from the Chinese community here in Barcelona," Felip Roca, Director of International Relations at Barcelona city council, told Catalan News.
"Their involvement in supplying PPE and helping put the municipality in contact with Chinese suppliers and administrations has made a real difference," Roca said, adding that the council was "overwhelmed by the generosity and the solidarity of people, businesses, and administrations coming to our aid in this time of great need."
Barcelona city council is responsible for providing protective equipment to core services such as the city Guardia Urbana police force and the fire service.
Securing orders
As cases of Covid-19 soared across the globe, so too did demand for the healthcare materials that are crucial in preventing the spread of the virus.
"It was complicated at the beginning," Roca explained, citing rising prices, a shortage of quality products and stiff competition among buyers.
Enter Catalonia's Chinese community. There are over 60,000 Chinese passport holders for whom Catalonia is home. Many are involved in the business community, from owning shops and restaurants to running multinational import/export companies.
One such company is Puente China, and their CEO Lidan Qi explained to Catalan News that business contacts have proved invaluable in the quest to source and deliver healthcare materials: "The advantage we have is that we're looking for manufacturers where we have contacts, or we go through a friend who is friends with a factory owner. That's how we can guarantee these supplies, because if not, you have to join the queue."
Puente China has managed to charter three flights from China to Catalonia, each with 100 tonnes of sanitary equipment, with plans for another three in the coming days.
Crucially, they're working on a timescale of less than a week from order confirmation to delivery.
Donations
April 2 saw a 12-tonne batch of medical supplies arrive from Shanghai, the first large-scale purchase by Barcelona city council, but in fact donations have been flooding in from the Chinese community here since the outbreak began.
Speaking to Catalan News, Lin Nan, the Chinese consul general in Barcelona said the majority of donations "have been voluntary and spontaneous." According to the consulate's data, there are now "more than 100 examples" of Chinese associations and individuals having donated healthcare materials to governmental and public bodies in Catalonia.
These donations ranged from smaller donations of 600 facemasks up to larger ones of 50,000 masks, as well as other sanitary materials such as gloves, protective goggles, and hand sanitizer.
Shared experience
Both the Chinese consulate and Barcelona city council emphasize that twinning agreements and other formal relationships between Chinese cities and the Catalan capital have proved fruitful during the crisis, with donations arriving from Shenzhen, Guangzhou, Yiwu, Liuzhou, and Shanghai.
Furthermore, Roca also pointed out that the cities "shared their experience in controlling and preventing Covid-19 in our hospitals," as well as sending materials.
Lin Nan said that she was "proud" of Chinese citizens living in Catalonia and that everyone had a desire to tighten ties even more between the two countries.
Looking ahead, if the downward trend of Covid-19 cases continues in Catalonia, Barcelona city council believes it has sufficient stock of PPE for at least two or three months, thanks in no small part to the Chinese community.