Catalonia enters third day of protests - live updates
Pro-independence supporters start marches across the country, blocking roads, after night of turmoil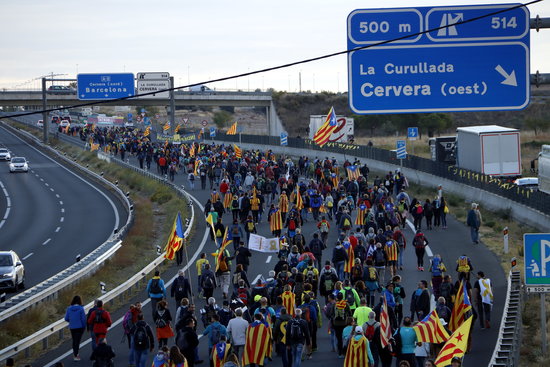 Catalonia entered its third day of protests on Wednesday as pro-independence supporters continued to demonstrate against the sentencing of 9 Catalan leaders for sedition. After a night of unrest across the country, which left 30 arrested and at least 130 people injured, marches started early in the morning in different towns, which are expected to culminate in a major rally in Barcelona on Friday. Student unions have called for a 3-day strike starting today.
Catalan president Quim Torra called an urgent meeting with his top ministers on Wednesday morning, amid warnings that the unrest could prompt Madrid to impose direct rule on Catalonia.
However, Torra left the meeting to join one of the three-day marches from different Catalan cities and towns towards Barcelona.
Torra briefly spoke to gathered media but did not take questions from journalists, and made no comments on the disturbances seen across the country last night which saw 30 people arrested.
The president gave his support to the marching protesters rejecting the sentences. "It's fantastic to see people mobilizing, it's emotional," he said.
Meanwhile, Spain's acting president Pedro Sánchez called separate meetings with the heads of the main parties in the Spanish Congress to discuss the situation of Catalonia.