Bathing high season kicks off in Barcelona with beaches 'back to normal' after Covid
Official website with level of occupancy, water quality and temperature, jellyfish and sea conditions available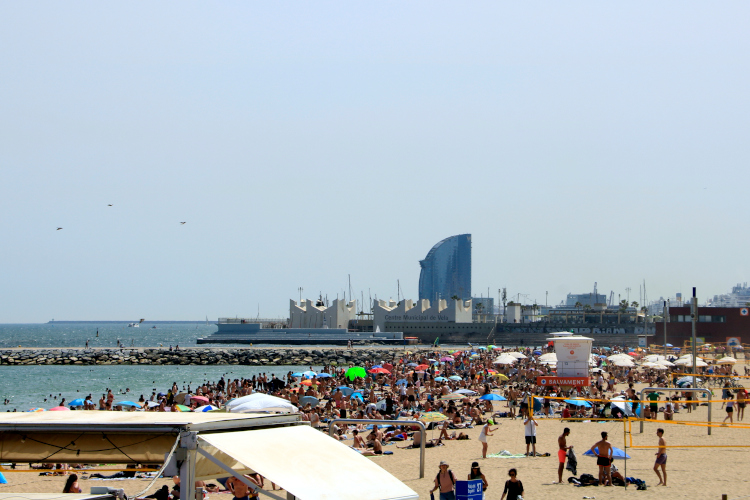 Bathing season began this weekend in Barcelona, and will last until September 11.
This means that all services at beaches are now up and running, such as lifeguards, first-aid facilities, toilets, and information points.
After two years of a direct impact of Covid on the regulations at beaches aiming to avoid crowds, they are now "back to normal" given the improvement of the health situation, according to the local council.
Yet, despite the fact that the pandemic has waned, local authorities have enabled a website in order to check the level of occupancy at each of the beaches – on Sunday early afternoon, most of them were reporting high (but none very high) occupancy.
Data also shows the water quality, whether there is presence of jellyfish, and the sea conditions.
Air temperature, weather, and water temperature are also available in the official website.
User support times for lifeguards and toilets
User support hours are from 10.30am to 7.30pm at all of the Catalan capital's 11 beaches, and toilets are available from 10.30am to 9pm.
Outside those times there are no lifeguard or rescue services, only the 012 emergency freephone service.
Sport and fishing at the beaches
All the volleyball courts are available for use at any time, and there are also eight areas reserved for sports on the Sant Miquel, Somorrostro, Nova Icària, Bogatell and Nova Mar Bella beaches, and these are also available for use at any time. From 7pm. on, all beaches will be open for all kinds of sporting activities.
Fishing is only permitted in the area reserved for that purpose at the Barceloneta beach, from 7pm to 9pm. It is also allowed at all beaches between 9pm and 10am.
The beginning of bathing season in the rest of Catalonia varies but ranges between late May and early June. The unseasonably high temperatures across the country last weekend led to towns such as Badalona start the summer season earlier than planned.