Heat reaches all-time high for May in Catalonia
Thermometers in towns of Anglès and Castellbisbal register 38.5ºC, surpassing previous record of 38.2ºC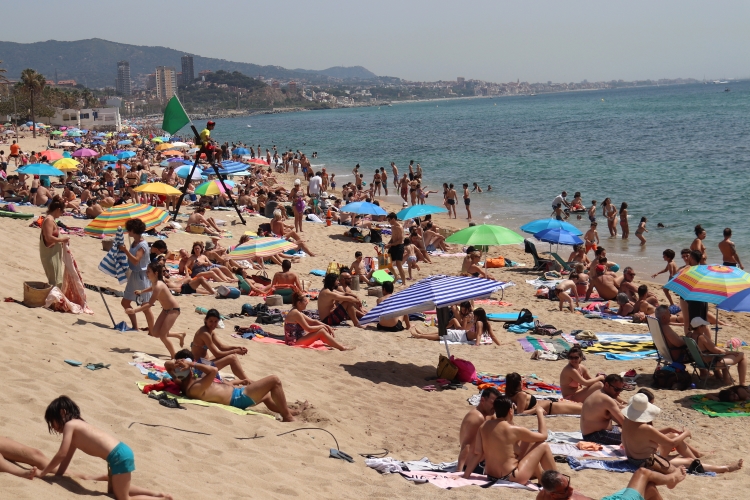 Heat in Catalonia has reached an all-time high for May on Sunday. Temperatures varied between 33ºC and 39ºC in the center of the territory, such as the Vallès area, Ponent, Prepirineu, and the inland region of Camp de Tarragona. The northern town of Anglès, near Girona, and the town of Castellbisbal, near Barcelona, registered the highest temperature at 38.5ºC, marking an all-time high for this month.
The previous record was set in 2012 in Vinebre, in the south, with 38.2ºC recorded. In fact, on Sunday, several other municipalities in Catalonia surpassed this all-time high. The meteorological station located in the Pantà de Siurana swamp and the town of Baldomar, both registered 38.4ºC on Sunday, while Caldes de Montbui, near the Catalan capital, marked 38.3ºC.
Other high temperatures varied from 38.2ºC to 38ºC.
Barcelona's record high for May
In the Catalan capital, temperatures also registered an all-time high for the month of May. Several meteorological stations recorded temperatures over 33ºC, such as the Zoo (33.8ºC), in the city center (33.4ºC), and the Fabra Observatory, 34.2ºC, in the Tibidabo mountain.
This has been the highest recorded temperature in 109 years for May. The previous all-time was set on May 31, 2001 when thermometers registered 33.4ºC.
Costa Brava's establishments full
The good weather conditions have seen hotels and restaurants on the central Costa Brava shoreline full.
During the weekend, the area looked more like it was July or August, rather than the typical May one. Beaches were full of people sunbathing and on Friday, hotel capacity was at 85%, while on Saturday some establishments had to turn down some bookings as they were sold out.
Badalona to start summer season earlier
The town of Badalona, near Barcelona, has proposed to start the summer season earlier than planned. It is scheduled to start in 15 days, but after welcoming over 10,000 people to its beaches during the weekend, the mayor suggested that it should start on the third week of May in the coming years.
Expecting a huge increase in the number of people going to the beach, the city council organized a small lifeguard deployment. In this case, four people and a lifesaving boat were on duty - during the summer season, they have 30 different team members.