Barcelona: World Capital of Architecture 2026
Expanded Architecture Week will become festival with international dimension next year as first stepping stone to UNESCO celebration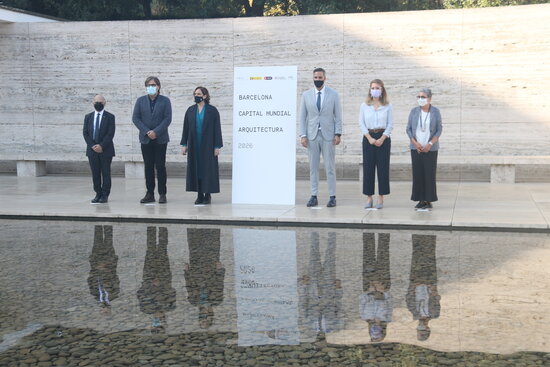 Barcelona Architecture Week is expanding, with the 2022 edition taking on an international dimension as a stepping stone on the way to 2026, when the city will be World Capital of Architecture.
The Catalan capital saw off competition from Beijing to receive the official designation from UNESCO in July this year, and will host the 2026 World Congress of Architects, organized by the International Union of Architects (UIA).
According to UNESCO, every three years, "the city designated as World Capital of Architecture becomes a global forum at the forefront of discussions on contemporary urban planning and architectural issues."
Barcelona Architecture Festival
Planning for 2026 is already afoot and one of the first initiatives will be Barcelona Architecture Week's conversion to Barcelona Architecture Festival for 2022 and beyond.
The festival will be extended beyond its usual week of activities and events and it will also expand outwards, taking on an international dimension with the addition of an invited guest city each year.
Janet Saez, the deputy mayor responsible for city planning, said they wanted to "take a leap" and give new impetus to the celebration of Barcelona's architecture.
On Monday, organizers announced Barcelona Architecture Festival as part of a press conference presenting Barcelona as the World Capital of Architecture in 2026.
Being made World Capital, mayor Ada Colau said, recognizes Barcelona's architectural and urban quality, its changing urban model and the ecosystem "of indisputable talent" present in the architecture sector.
Colau said that the city is "a benchmark and is leading some of the answers to the great challenges of the 21st century. We are very excited to host the event and it is an opportunity to promote many of the transformations that are taking place."
The festival is supported by Barcelona City Council, the Catalan government and Spain's Ministry for Transport, Mobility and Urban Planning, along with the Catalan and Spanish Architects' Associations.
Before the title comes to Catalonia in 2026, the Danish capital Copenhagen will be the official World Capital of Architecture for 2023.
Podcast
Barcelona's City Council's innovative but controversial approach to urban planning was discussed in a recent episode of our Filling the Sink podcast. Have a listen below.