Barcelona police launch Operation Summer to tackle expected rise in crime
12% more Guàrdia Urbana assigned to campaign to promote safety and coexistence between tourists and residents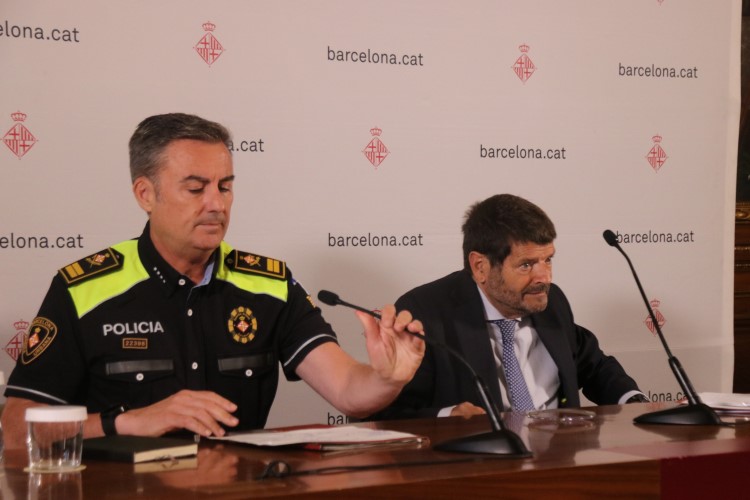 Barcelona's local police force, the Guàrdia Urbana, have launched Operation Summer, ahead of a summer they predict could see more crime than last year.
The good weather is expected to brings more people, both residents and tourists, to the streets of the Catalan capital, with the easing of the pandemic exaggerating the usual pattern.
In order tackle an anticipated rise in crime, the Guàrdia Urbana are employing 349 officers on the streets as part of the operation, 12% more than in summer 2021, boosting the ranks of the thousand or so year-round officers.
Crime figures for 2022 are worse than for 2021, although still far below 2019, the last full year before the pandemic, Pedro Velázquez, head of the police force, explained at a press conference along with Barcelona councilor for security Albert Batlle on Monday.
"We are confident that we will be able to contain it," Velázquez said.
A clampdown on on-street consumption of alcohol and 'safe routes' between late-night venues and public transport to reduce sexual assaults are among the measures police will implement.
Beach patrols and late-night safety
For the tenth year in a row, Barcelona's beaches will be assigned a specific task force. Like last summer, 90 officers will patrol the seafront with 32 vehicles, although their numbers can be increased if crime rates go up, Velázquez said.
Police chiefs are especially concerned about safety at night, assigning 37% more officers to the early hours of the morning compared to last summer.
As well as more police, they will implement 'safe routes', "saturating" certain streets between clubs and public transport with police officers, with special emphasis on protecting women.
"We need to publicize more that these routes exist, because many people do not use them because they do not know them," Velázquez said.
They will be implemented around Carrer Tusset, in the coastal area of the Old Town (Ciutat Vella), and in the area around Carrer Almogàvers and Carrer Marina.
On-street drinking
Another focus of Operation Summer will be clamping down on mass on-street drinking, known locally as botellones.
Towards the end of last summer, around Barcelona's La Mercè festivities and with Covid restrictions preventing nightclubs opening as normal, tens of thousands of revelers gathered at botellones, leading to dozens of arrests and injuries after clashes with police.
But, according to Velázquez, night patrol officers have described most weekend nights since Easter as "quiet."
"We believe that many of the people who caused problems drinking on public streets during the pandemic have been absorbed by conventional nightlife venues," he said.
The city council has also asked the Catalan government to prohibit the sale of alcohol in supermarkets after 10pm, rather than 11pm as is currently the case.
The police also announced their intention to clamp down on bike taxis, none of which are licensed to offer commercial services, and to continue their inspections of Barcelona's cannabis clubs, in theory for members only, but in reality popular with visitors to the city too.
The Guàrdia Urbana will also collaborate with the Mossos d'Esquadra, Catalonia's police force, especially over more serious crimes such as violent muggings, assaults and dealing with repeated offenders.