Barcelona exhibition center to house hundreds of vulnerable and homeless people
The Fira de Barcelona with initially accommodate 225 people, with space to expand to 1,000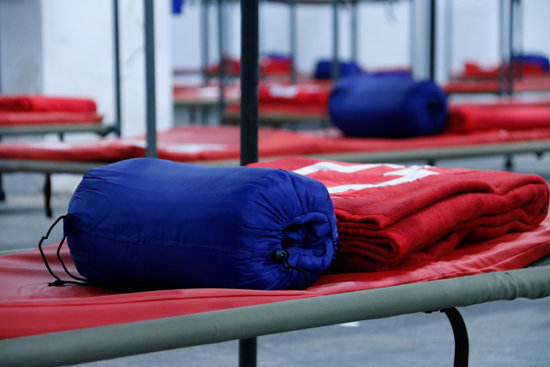 When the Fira de Barcelona exhibition center hosted Barcelona Wine Week at the beginning of February, nobody expected that by the end of the following month the venue would be transformed into accommodation for hundreds of homeless people, sheltering from the deadly virus covid-19.
But on Wednesday, the day the number of coronavirus fatalities in Spain surpassed that of China, Barcelona City Council launched a facility to temporarily house 225 vulnerable people.
Amidst an army of Red Cross staff, as well as the actual Spanish army and local police, media were invited to view the sleeping quarters and facilities at the site.
The exhibition center has the capacity to expand in the future, providing 1,000 people with food and accommodation, while ensuring security and hygiene levels are maintained, and complying with all covid-19 health and safety protocols.
The 6,000-square-meter space will allow people who were sleeping rough to conform to confinement regulations and will provide social care and basic medical care. Red Cross and Barcelona City Council staff will alert emergency services in the event that a positive case of covid-19 is identified. There will be a rest area, showers and dining room.
Sites for women and for those self-isolating
Including the Fira de Barcelona, a total of 385 additional places have been created in Barcelona for vulnerable people, with other facilities opening at sites around the city in the past few days. One of those, at Dos de Maig, will cater for women only.
Another site - with 30 places available - will provide accommodation for vulnerable people who have been told to self-isolate due to confirmed or suspected cases of covid-19.
These places are in addition to the 2,200 homeless people that were already being hosted by the local authority or other organizations in the Catalan capital.
The city council has also agreed to rent 200 tourist apartments at special, low rates, in order to expand social accommodation and to respond to situations that may arise with female victims of gender violence, families with dependent children, or homeless people who are currently housed in different facilities.
Foster and group homes for minors
As the number of coronavirus cases has gone up, so have the instances in which adults have become unable to care for their children, and social services have been placing the underage children of adults who are in isolation or treatment for covid-19 in foster homes or group care.
When children are not able to go live with extended family members, if they are under three years of age they are sent to foster homes and if they are three to eighteen years of age they are sent to group homes.