Another eviction in Barcelona put off by pressure from UN
Laura and her 10-year-old daughter almost lost their home for the third time on Thursday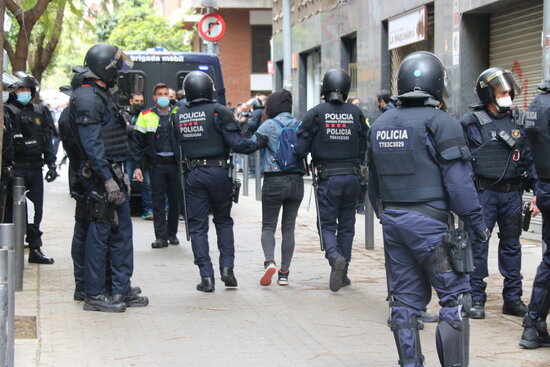 Laura and her daughter, living in a flat in the central Ciutat Vella neighbourhood in Barcelona, have now faced eviction 3 times. After the first attempt was halted by a judge and a second through neighbourhood support outside her door, her eviction planned for Thursday was temporarily cancelled thanks to pressure from the UN calling for its suspension.
Through the local anti-eviction body Sindicat d'Habitatge del Casc Antic, Laura contacted the UN Committee on Economic, Social and Cultural Rights, the same committee that stopped the eviction of Alejandro, an 84-year-old-man living in a city center flat in March.
In the fight to prevent her eviction, emphasis has been placed on the fact that she is in a state of "extreme vulnerability", something which has been confirmed by the city council's emergency housing board, hospitals and social services.
Laura and her daughter had to flee domestic violence coming from her husband, from whom she is now separated. She has custody over her daughter, who is just 10 years old, and is autistic. Although she works, earning just below a thousand euros a month, her rent is priced at €950, which is nearly her whole salary. She has also now accumulated debt.
On May 4, 2021, Spain decided to extend some social measures from the state of alarm, including the suspension of evictions for people who could prove that they were in an "extremely vulnerable" state.
However, the Sindicat told Catalan News that in many cases, these protections are often not applied since the final judgement is down to the courts, and Laura's case is yet to have been permanently halted. They pointed out that there are still many misunderstandings around the application of the law, especially in cases where it is not the first eviction notice.
The Sindicat have tried to discuss Laura's situation with the Montagut family, who are the owners of the property, but told Catalan News that they have not yet received a response.
It is now up to the courts and the landlord to come to an agreement regarding Laura's case. In the meantime, the Sindicat rejoice in the delay of the eviction, commenting on Twitter "Now, it's time to keep organizing ourselves until we get a real solution for these families."
DESNONAMENTS ATURATS! 🎉

➡️ Hem aconseguit aturar els dos desnonaments de demà!

Ara toca seguir organitzant-nos fins aconseguir una solució real per a les famílies❤

Cap veïna fora del barri! #CascAnticViu pic.twitter.com/JSDKHRN6Pf

— Sindicat d'Habitatge Casc Antic (@shcascantic) May 5, 2021