Barcelona judge halts eviction of 84-year-old man after UN intervention
Committee on Economic, Social and Cultural Rights also want eviction of Sant Andreu family suspended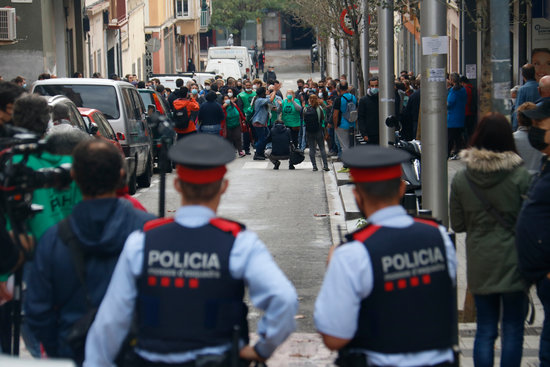 A court in Barcelona has halted the eviction of an 84-year-old man living in a city center flat, one of two evictions that the UN had asked to be suspended.
Judge Yolanda Lucia Arrieta made the decision on Tuesday in order to "avoid irreparable damage" in light of the request from the UN Committee on Economic, Social and Cultural Rights (CESCR).
The move was welcomed by local housing activists 'Resistim al Gòtic' (We Resist in the Gothic Quarter), who tweeted "Victory. We have suspended Alejandro's eviction. After the request of the UN, as a result of our appeal, the court has had no choice but to suspend the illegal eviction."
Sant Andreu family
The UN body has also asked for the scheduled eviction of a family in Barcelona's Sant Andreu neighborhood to be suspended, or for them to be offered alternative housing "that suits their needs."
The eviction of the family, a couple with two children aged 9 and 13, was scheduled for 12.30pm on Tuesday but did not go ahead, although a new date has not been ruled out as, unlike in the other case, there has been no legal intervention to suspend the eviction.
According to the local neighborhood housing union the family has been living in the flat for more than ten years but after a change of ownership the new owner does not want to renew their contract. The union says the family is vulnerable and describes their economic situation as "very serious."
In both cases, housing unions and support groups have contacted the UN committee in order to prevent the evictions. In Sant Andreu, the neighborhood housing union intervened while in the other case it was the Resistim al Gòtic organization.