33 winners of Nobel Prize for economics reject professor's potential 'independence' fine
Joseph Stiglitz is among those supporting Mas-Colell, accused of irregular public spending despite retiring two years before referendum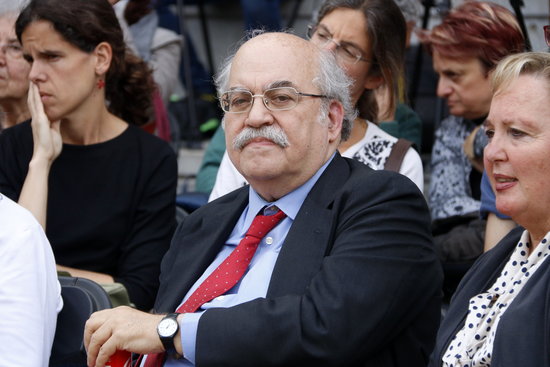 33 Nobel Prize laureates for economy have signed a letter supporting the Catalan professor Andreu Mas-Colell, who may face a multi-million euro fine from Spain's Court of Auditors.
In April, the institution summoned numerous Catalan government figures from between 2011 and 2017, including former presidents Carles Puigdemont and Artur Mas, over foreign policy expenditure possibly linked to the independence push. They are expected to be officially informed of the amount each of them will have to face in their summonses on June 29 and 30.
The tribunal considers that the executive spent public money abroad to promote Catalonia's attempt to split with Spain and deem that around 40 politicians and figures should be held personally liable for this.
One of them is Andreu Mas-Colell, who served as economy minister between 2010 and January 2016, almost two years before the referendum and the peak of the crisis took place.
Mas-Colell has "full integrity"
The letter of support published on Tuesday in 'El País' is signed by 33 Nobel Prize winners, including Joseph Stiglitz, Gorge Akerlof, Robert Aumann, Angus Deaton, Esther Duflo and Eugene Fama.
Around 20 other world-class economists also signed the text, which included calling the open procedure against the retired professor "unfair."
"We are deeply concerned about the news and the situation of professor Andreu Mas-Colell," they say. The prestigious economists remind that the 18,000-page document of accusations to the officials do not include his connection with the independence push.
"Those who have been in touch with professor Mas-Colell for several years as colleagues, students and co-authors know he is a person with full integrity," the letter reads. "The result of this procedure could have a negative impact on the will [of scientists] to return to their countries and contribute to the public service," they say. Mas-Colell had been professor abroad before returning to Catalonia.
Indeed, he is a world-leading microeconomist and formerly the Louis Berkman Professor of Economics at Harvard. He also founded the Barcelona Graduate School of Economics and served as the head of the Department of Economics and Business at Universitat de Pompeu Fabra during his career, before becoming economy minister.
European Economic Association also expresses solidarity
The European Economic Association has also expressed solidarity with its former president, Mas-Colell.
In a statement, the entity hopes "for a positive resolution of the matter."
"Professor Mas-Colell has demonstrated an unwavering spirit of service and has conducted himself with the highest level of integrity," they say, calling him "one of the most influential scholars in the economics profession, with a distinguished research career in both Europe and the United States."
'Nothing to do with organization of referendum'
In a detailed thread posted to Twitter, his son, Alex Mas, first denounced the situation that prompted a wave of support, saying that the professor was sent an 18,000-page document of accusations and given just ten days to reply. Also according to his son, this lengthy document does not specify the former minister's personal connection with the alleged misuse of funds.
Alex Mas adds that the potential penalty his father faces far exceeds his net worth, he, along with the other accused individuals, could have all of their assets and property, and income seized, despite, as Alex says, not having "anything to do with the organization of the referendum, or the events that transpired."
A change.org petition has also been established calling for due process for Mas-Colell's case as there will be no trial over the matter and a penalty would simply be handed down. The petition has already collected over 10,000 signatures.