200 social and economic entities join forces to bring the European Medicines Agency to Barcelona
They defend the city as a great headquarters due to its "scientific, technologic, and industrial potential" and the way it faces "big challenges" as it did with the Olympic Games in 1992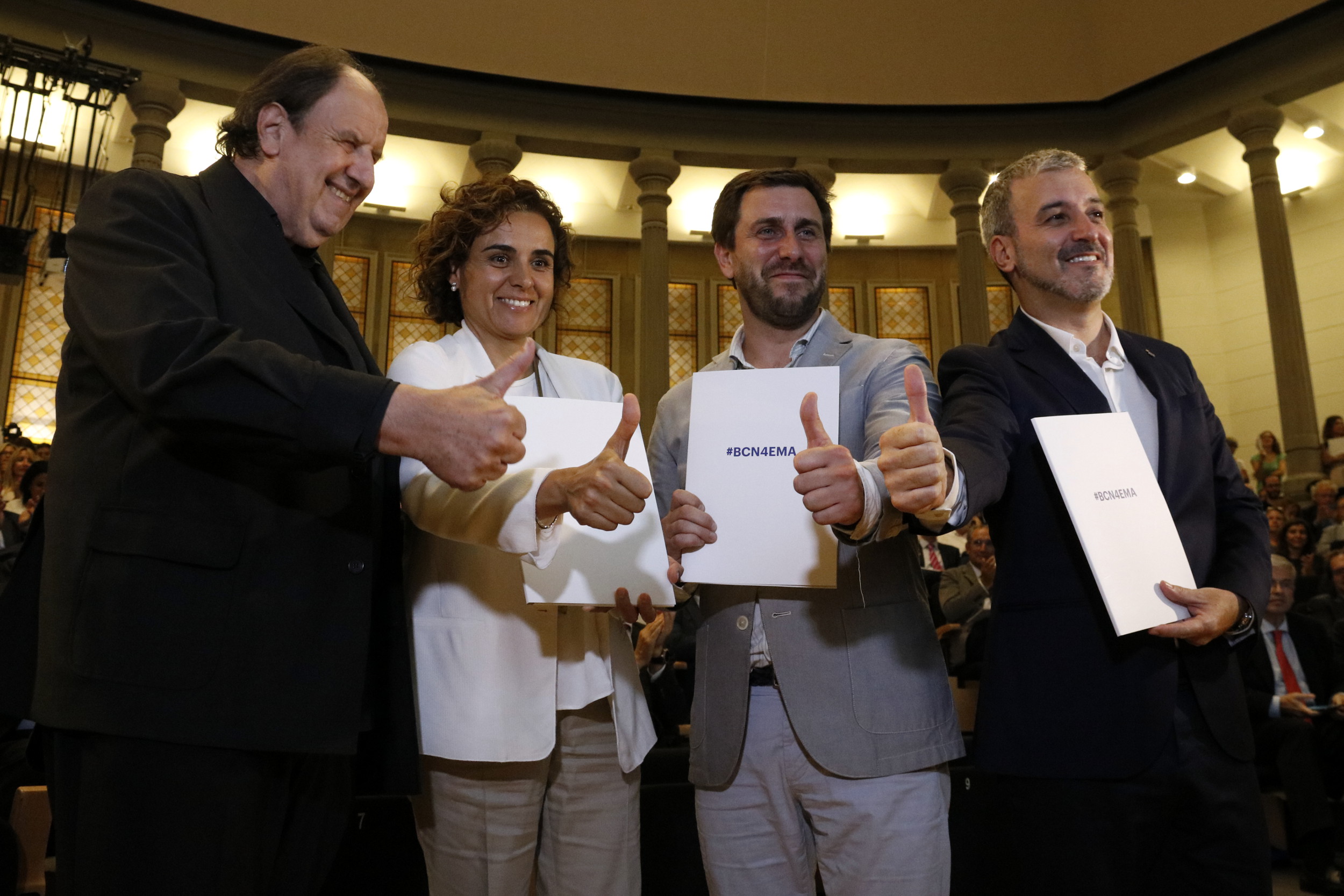 Around 200 social, economic, cultural, and academic entities joined forces in a manifesto to give support to Barcelona's campaign to bring the European Medicines Agency (EMA) to the Catalan capital. The manifesto was read by the Catalan actor Josep Maria Pou at the Faculty of Medicine at Barcelona University on Monday. The event also featured the Spanish health minister, Dolors Montserrat, the Catalan health minister, Antoni Comín, and other authorities. The manifesto says that Barcelona "wants to be and can be a great headquarters" for the EMA, among other reasons because of its scientific, technologic, and industrial potential" and because "it enjoys maximum institutional, civil, and social support". According to the signatories, Barcelona is also ideal because of how the city faces great challenges with excitement and conviction like the successful celebration of the Olympic Games in Barcelona 25 years ago.
As a result of Brexit, the European Union is looking for a new location for two London-based agencies, the European Medicines Agency and the European Banking Authority (EBA). 200 entities, institutions and professionals from diverse sectors—representatives from civil society—showed their full support for Barcelona to become the new European medicines capital with a manifesto on Monday. Barcelona's candidacy is also defended by the Spanish government, the Catalan government, and Barcelona city hall.
"Barcelona for sure has the energy, the determination, and the objective conditions to guarantee an ideal relocation of the agency's activities, its workers, and their families," says the manifesto in reference to the EMA's departure from London due to Brexit. The signatories claim that the workers "will benefit from a high quality of life, one of the world's best public health insurance systems, and a very robust choice of international schools." "The city fulfills the requirements and guarantees in order to develop this project," insist the signatories, who guarantee an agile and efficient move and the necessary attraction power to retain talent and scientific excellence.
The manifesto emphasizes that Barcelona is the "main research pole in southern Europe" and that it boasts a "wide network of institutions, universities, as well as biomedical, hospital, and technologic research centers of the highest level, and a well-established IT and communication technologies ecosystem." "This scientific strength is one of the main reasons why Spain is the second country in European clinical tests of advanced therapy, with substantial growth this last decade," they say.
The manifesto's signatories value Barcelona's connections with other big European cities, thanks "to a continually growing airport, a high speed railway network, and one of the most important port and logistic centers in the world." They also outline the hotel capacity of 19.5 million overnight stays a year. "We, the undersigned, want Barcelona to be the new home of the EMA," concludes the manifesto.