1,800 extra staff for care homes if second wave of Covid-19 hits
Contingency plan states that homes will have to keep beds and PPE in reserve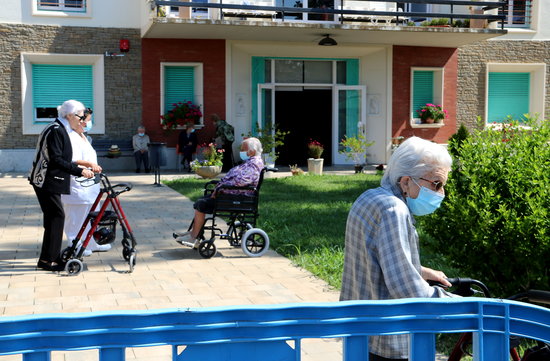 The Catalan government wants to provide care homes with more "muscle" to deal with a possible second wave of coronavirus in the autumn.
It will finance the hiring of 1,800 new staff, increasing the ratio of workers in care homes by 15%.
On top of that, residents' care will also be reinforced with around 450 health professionals from primary care, 163 doctors and 270 nurses.
Other measures in the contingency plan include treating a single positive case as an outbreak – meaning PCR testing will be required for all staff and residents – keeping beds in reserve in order to isolate cases, and having a four-week supply of individual protective equipment in stock.
Speaking at a press conference on Monday, health minister Alba Vergés said it was imperative to continuing preparing care homes to be in a position to respond "as best as possible" if there is another outbreak.
Social affairs minister Chakir el Homrani announced that night nurses will be compulsory in care homes with more than 60 residents.
Care home data
According to the government's classification system, there are currently 761 care homes (72%) in Catalonia classified as green, ie with no current Covid-19 cases.
23% are classified as orange (they have some positive cases but cases are separated from other residents), 4% are red and 1% are pending assessment or reclassification.
In May, a care home commission of inquiry was unanimously approved in parliament.