Vote on waiving MEP Puigdemont's immunity dependent on EU parliament speaker decision
David Sassoli seeks way to hold in-person hearings before chamber's legal affairs committee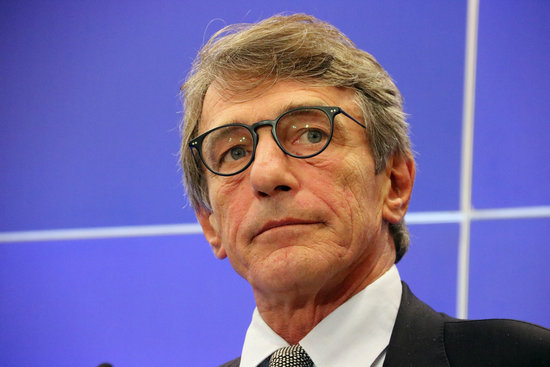 The procedure to waive MEP Carles Puigdemont's parliamentary immunity, as requested by Spain's judiciary to move forward with his extradition process, came to a halt due to Covid-19 and currently awaits a decision that must be made by the European Parliament speaker.
The process remains in the legal affairs committee (JURI), which has to hold a hearing with Puigdemont and the two other MEPs whose privileges Spain has also requested be lifted, Toni Comín and Clara Ponsatí.
Yet, regulations state this step must be held in-person and parliamentary sources say that they are waiting for the chamber president, David Sassoli, to either allow for it to go ahead or to find an alternative "solution."
"It depends on the chamber presidency," insist the same sources, who suggest that Sassoli is already working on it.
The next step would be for the JURI committee to side in favor of or against lifting their immunity in a report written by one of its members. In this case, it would be the task of ultra-conservative Bulgarian politician Angel Dzhambazki, who acts as rapporteur. The committee will then vote on the report in a secret ballot.
The report is said to be "well underway," with over 4,000 pages of documents pertaining to the case as they have been translated into all of the committee members' official languages.
Once the committee votes on the report, the case of each politician will then be voted on by a simple majority in the next EU parliament plenary session.
To remain MEPs even if extradited
In the event any of the leaders of the 2017 independence referendum loses their parliamentary immunity, the Spanish judiciary would be able to proceed with their extradition cases – but they would still be MEPs.
Even if Belgium or Scotland (in Ponsatí's case) agreed to hand them in, they would still keep their MEP seats until a potential conviction barring them from office.
Yet, whether having their immunity lifted would lead to extradition is not clear, especially since a Belgian court recently rejected handing sending another exiled leader, Lluís Puig, back to Spain after arguing that the Supreme Court did not have the authority to issue a European arrest against him.
Meanwhile, Ciudadanos MEP Adrián Vázquez claimed on Thursday that he "cannot allow anyone to turn" the European Parliament "into a circus or an electoral act."
Vázquez's party has repeatedly positioned itself in favor of reforming the European Arrest Warrant system after unsuccessful attempts to extradite Catalan leaders for their roles in the 2017 independence push.