Uncertain election campaign kicks off in Catalonia amid coronavirus fears
Parties hold opening rallies, with judges debating whether should be delayed and prosecutor against postponement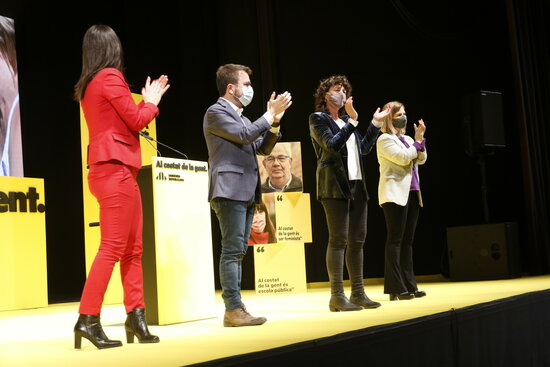 The most uncertain election campaign in years kicked off in Catalonia on Thursday at midnight, with political parties forced to run in an election that most of them agreed to postpone over coronavirus concerns, but were overruled by a court.
While judges could still backtrack, suspend the campaign halfway through and adjourn the vote, their final decision will most likely strike down the government decree delaying the parliamentary election, thus keeping the initial voting date of February 14.
So far the public prosecutor has already sided in favor of holding the vote in two weeks, arguing that the current health situation was foreseeable and that risks can be minimized with safety measures.
Catalan parties have pledged to reduce in-person rallies, with some announcing fully online campaigns, and urged their followers to abide by mobility restrictions and avoid leaving their municipality to attend political events.
Pro-independence majority at stake
Pro-independence parties face the challenge of keeping their parliamentary majority after three years of political infighting between the Catalan government ruling partners, Esquerra Republicana and Junts per Catalunya.
Some of the party's most senior leaders, jailed for their role in the 2017 independence push, recovered their day-release privileges under the low category 'semi-freedom' status on Thursday, which will effectively allow them to participate in election rallies.
After a decade of pro-independence hegemony in the Catalan parliament, which has the power of appointing the head of the government, the Socialist party is best positioned within the unionist camp to win the most votes and challenge the pro-independence rule.
Still, no party is expected to win an absolute majority of the 135 parliament seats, all but ensuring that whatever candidacy gets the most votes, it will rely on support from other groups to secure a ruling majority—a feat that could prove far more challenging for unionists than for pro-independence parties.