UK refuses to process arrest warrant for exiled former minister
British authorities say extradition order lacks "essential information" and says it's "urgently" needed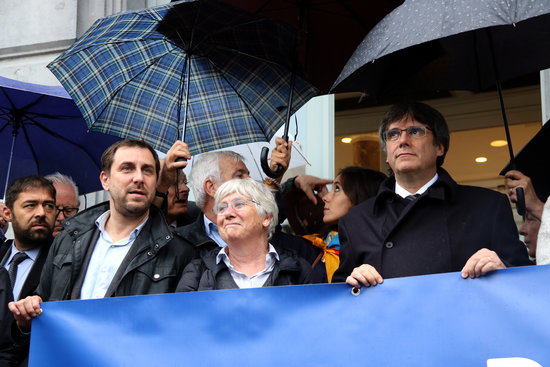 The UK authorities have refused to process Spain's warrant for the arrest of exiled former Catalan education minister, Clara Ponsatí, who is living and working in Scotland.
While British authorities initially called the extradition order "disproportionate," they later rectified: "In our previous message our reply incorrectly stated that the warrant was disproportionate - it is not disproportionate, it is just lacking essential information."
"The request does not currently provide sufficient detail of the nature of the offence: it also lacks a description of the time and place at which the offence was committed. The request must also show a clear connection between the offence and the named individual."
According to the UK government's Sirene office, which handles such procedures, a specialized lawyer has examined the warrant issued for Ponsatí, who is accused of sedition for her role in the 2017 independence bid.
Informing the Spanish authorities that it will not detain Ponsatí on the basis of the warrant, the statement adds that "the National Crime Agency can evaluate again the situation if it receives more information on this issue."
Ponsatí postpones reporting to police
The refusal of the British authorities to go ahead with Ponsatí's extradition process comes the same day that her lawyer released a statement saying that the former minister had postponed reporting to Scottish police on Thursday.
Ponsatí's lawyer, Aamer Anwar, said in the statement that "there appears to be glaring contradictions contained in a 'rambling' warrant," and added that "the warrant has now been returned to Spain seeking clarification."
Citing recent delays to the extradition hearings of Carles Puigdemont, after the Belgian judiciary asked for the warrant issued for the former president to be translated, Anwar lists a number of irregularities in the order for his client's arrest.
The warrant "jumps from 'Rebellion' to 'Sedition', whilst Clara Ponsati is accused of Sedition," the statement says, and also that the illegal activities cited go back to December 2012, while "Ponsati only returned to become Education Minister on July 14th, 2017."
Extradition attempts "shambolic" and "arrogant"
However, Anwar's statement was also highly critical of the Spanish authorities, calling their extradition attempts "shambolic" and "arrogant," and adding that it "should be a source of deep embarrassment to them."
The current warrant is the third attempt to extradite the former minister for her role in the 2017 independence bid, after she went into exile in Belgium with Puigdemont and other government members, before retaking her post as a professor at St Andrews University.
Anwar ends the statement with a warning to Spanish president Pedro Sánchez after he made comments about controlling the prosecutor's extradition process: "Such statements makes a total mockery of the Spanish state's claim to have the 'separation of powers'.