Trapero reinstated as Catalan police chief following acquittal in sedition trial
Former head of Mossos d'Esquadra regains post after Spanish court concludes he did not aid 2017 independence bid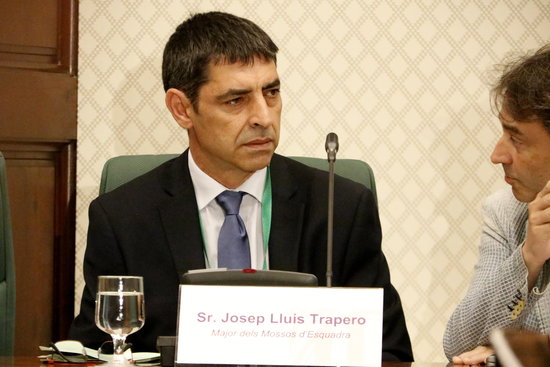 Josep Lluís Trapero has been reinstated as the chief of Catalonia's own police body, the Mossos d'Esquadra, three weeks after his acquittal for allegedly contravening Spain's orders and not doing enough to stop the independence referendum in 2017.
The Catalan interior minister, Miquel Sàmper, offered Trapero back his job when Spain's National Court cleared him of all charges on October 21. On Thursday, Trapero accepted the proposal and was immediately reinstated.
As the head of the Mossos during the referendum on October 1, 2017, Trapero was accused of being too lenient and taking insufficient steps to stop the vote, which had been called by the Catalan government in defiance of Spanish authorities.
While Spanish police officers broke into polling stations to seize ballot boxes, leaving hundreds of people injured, Trapero instructed Mossos officers to seal off polling stations when possible, but to avoid situations that could put social peace at risk.
A month after the referendum, when the Spanish government imposed direct rule on Catalonia to stop the independence bid, Trapero was sacked alongside the then Catalan president Carles Puigdemont and his ministers.
Trapero's acquittal came in stark contrast with the Supreme Court verdict sentencing former government members and other pro-independence politicians and activists, which was announced in October 2019 and unleashed a wave of protests and altercations.
While politicians and activists were condemned to serve from 9 to 13 years in prison for the crime of sedition, Trapero —as well as another Mossos officer and two former interior ministry officials— were cleared of the same offense.