Trapero and former Catalan police leadership acquitted by Spain's National Court
The former Mossos chief and others were accused of aiding the 2017 independence push and faced charges of sedition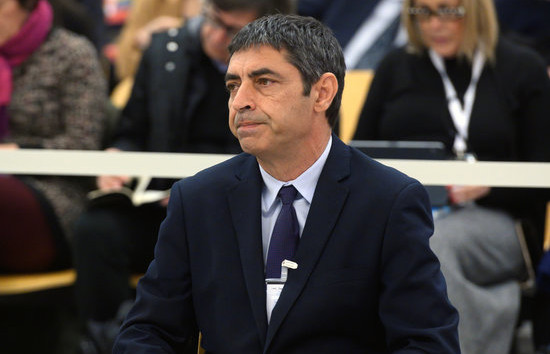 The head of the Catalan police force during the 2017 independence push, Josep Lluís Trapero, has been acquitted by Spain's National Court.
Despite being accused of sedition by the public prosecutor and facing a proposed prison sentence of 10 years, Trapero was cleared of all charges.
With one discrepant vote from the president of the tribunal, National Court judges in Madrid also acquitted a former Catalan interior ministry official, César Puig, the former director of the Catalan police, Pere Soler, as well as superintendent Teresa Laplana.
The chamber president, Concepción Espejel, argued in favour of sentencing Trapero and Soler with sedition as she believes the Catalan police forces assisted the Catalan government in carrying out the vote.
The ruling comes in stark contrast to the verdict handed down by the Supreme Court a year ago convicting Catalonia's top pro-independence politicians and activists of sedition, with prison sentences ranging from 9 to 13 years for organizing the 2017 referendum deemed illegal by Spain.
As the head of Catalonia's own police body at the time of the vote, Trapero was accused of being too lenient and taking insufficient steps to stop the vote. By contrast, Spanish police officers broke into polling stations to seize ballot boxes, leaving over a thousand people injured, according to figures from the health department.
Prosecutors had argued that the Mossos carried out "no legal action" to stop the vote and only "cynically pretended" to be complying with the courts. Sources from the prosecutor's office have confirmed to the Catalan News Agency that they will study the sentence to decide whether to appeal it.
Yet, during his hearing, Trapero said he had tried to follow Spanish court orders, but that it was impossible for 7,800 officers dispatched throughout Catalonia to stop 2.3 million voters. "The three police forces [the Mossos, Spain's Guardia Civil, and Spain's National Police] did not have enough resources," he said.
Interior minister celebrates verdict
Catalonia's interior minister, Miquel Sàmper, celebrated the acquittal and said that he intends to meet with Cèsar Traperom Puig, Soler, and Laplana in a few weeks in order to evaluate their thoughts on "their professional futures."
He will speak with the four former members of the Catalan police leadership "as soon as possible to convey his satisfaction with the end of this unfair procedure."
The minster added that he didn't expect to see an acquittal, explained that "the whole body has been questioned" and said that "today the professionalism of an entire body (the Catalan police force) is reaffirmed."