Thousands of people protest Guardia Civil raids
Citizens take to the streets in response to massive anti-referendum operation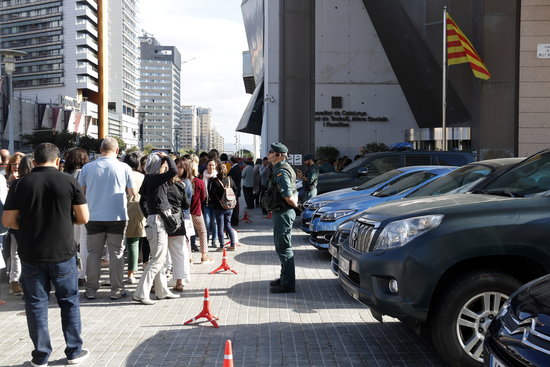 Thousands of people have gathered outside the Department of Economy today in protest to Spanish police storming government buildings in an attempt to put a halt to the October 1 independence referendum.
The streets filled with angry chants as pro-independence supporters, many carrying Catalan flags, attempted to peacefully hinder Guardia Civil agents acting under the authority of Madrid's interior ministry.
"We will vote," people shouted, "our weapons are our ballot boxes," as well as the famous slogan from the civil war "they shall not pass."
A large delegation of the Republican Left of Catalonia (ERC) and the Catalan European Democratic Party (PDeCAT) also approached the Ministry of Economy, including Spanish parliament MP Joan Tardà who called for protestors to remain peaceful.
"They want there to be violence," he warned them, "and there will not be."
Other high-profile Catalan politicians present were councilor Alfred Bosch, deputy Alba Vergés, MEP Ramon Tremosa, and spokesman to the Senate, Josep Lluís Cleries.