'There will be no second opportunities' for dialogue, Catalan president tells Madrid
Second round of talks on independence issue still without date as Spain says pandemic is now "more urgent and important"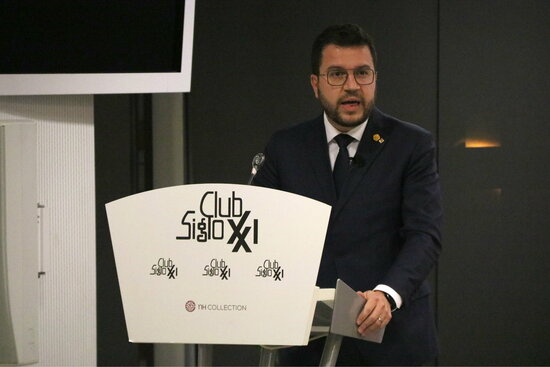 The Catalan president, Pere Aragonès, has warned Spain that there will be "no second opportunities" after the current attempts at dialogue with Madrid over the independence issue.
In a conference held in Madrid on Tuesday, he called on the Spanish government to not "delay negotiations," as the second round of talks after the one held on September 15, 2021, still has no date.
Some pundits believe the Socialist-led cabinet is waiting for the February 13 regional election in Castile and León outcome to resume the talks, in order to avoid a possible negative impact on voters there, if they view the talks disapprovingly.
Indeed, Aragonès said "it is not acceptable to use" the fear of a rise of the far-right in order to postpone the negotiation.
"There is a historic opportunity that cannot be missed," he added. "If this is blocked, we will move forward."
The Catalan chief also called on Spain's president, Pedro Sánchez, to be "brave" and accept a referendum of self-determination. "Dare to win or to possibly lose," he emphasized.
Referendum on independence and amnesty, main demands
The other main demand of his government is for Spain to put forward an amnesty for all judicial cases surrounding events related to the independence push in the 2010s, which would see the formerly jailed leaders' disqualifications removed and would allow exiles to return to Catalonia.
Yet, Sánchez has always rejected both demands, which leads to increasing scepticism about the talks on behalf of part of the independence campaigners. Junior coalition partners in the Catalan executive, Junts, have so far rejected sitting at the table.
The leader of the Socialists in Catalonia, Salvador Illa, also weighed in on the topic. He said that Catalans are "sick of divisive proposals" from the pro-independence side, such as the referendum. For Illa, this feeling among the populace is why the vote on self-determination will not take place.
Spanish president: Covid is 'more important'
On Monday, the Spanish leader pledged to convene the negotiation table "more than once" in 2022 but refused to set a date in an interview with Cadena SER radio station.
"It will take place in the future, but now institutions are focused on something more urgent and more important, the health emergency," he stated.
Sánchez also called on Aragonès to not only request a negotiation with Madrid, but also to launch one within Catalan society.
Aragonès: attacks on Catalan immersion in schools aim to 'split society'
During his conference, the head of the government in Barcelona also said that the recent efforts to put an end to the Catalan language immersion system in schools aim to "split society" into different linguistic communities and to get votes elsewhere in Spain.
For him, the current immersion system "is a model of success that has brought society together."
Since the early 1980s, Catalan has been the working language at schools in order to protect it and avoid society being split into two separate linguistic communities.
When Catalonia recovered its self-rule in the late 1970s after 40 years of a fascist dictatorship, its new authorities decided that classes in Catalan, rather than a choice between Catalan and Spanish, would ensure that students end their studies speaking both languages – considering that the latter is learned in society because it is the most widely used one and is studied as a foreign language at school.
Demands for 'transparency' over 2017 attacks
Aragonès also called for explanations regarding the recent comments of former Spanish high-ranking official José Manuel Villarejo, who claimed that the Spanish intelligence was complicit in the 2017 La Rambla terror attacks that resulted in 16 deaths.
Although he avoided speculating over whether Villarejo's remarks are true, Aragonès said the best way to know would be to launch an inquiry commission in Congress. He is one of the many officials who have requested such a committee in the past few days.