Supporters gather as detained pro-independence activists appear in Madrid high court
Seven members of independence pressure group give evidence in Spain's National Court charged with terrorism offenses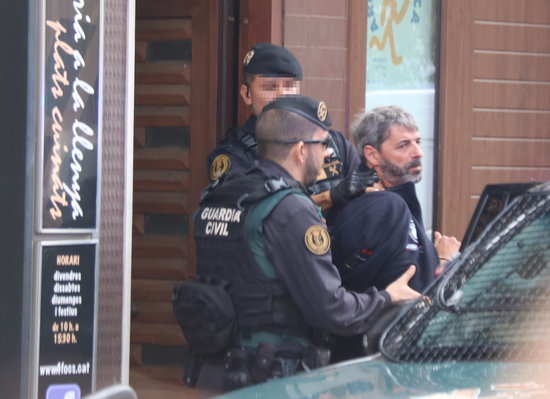 Seven of nine pro-independence activists arrested on Monday and accused of plotting violent acts began giving evidence in Spain's National Court in Madrid at 11am on Thursday morning.
Around 2 pm local time, four of them had already faced the judge's cross-examination and at least two of them only answered their lawyers' questions. In attendance at the hearings were the judge, the accused activists one by one, their lawyers, and a public prosecutor.
The nine members of the Committees for the Defence of the Republic (CDR) pro-independence pressure group were arrested in different Catalan towns as police launched Operation Judas, involving some 500 officers.
While all nine were charged with terrorism, rebellion and possession of explosives, two were released on bail on the same day of their arrest, with the rest being transferred to the Madrid region for their court appearance.
From early in the morning, people in support of the detainees began gathering outside the court, including CDR members and representatives of the ERC, JxCat and CUP pro-independence parties.
Some of those showing solidarity with the defendants had traveled from the Catalan town of Folgueroles, in Osona county, where one of the accused activists lives. On Tuesday, hundreds of people took to the town's streets in a show of support.
Only two suspects made statements to the police while waiting to appear in court. According to leaks from the Guardia Civil, both admitted they were preparing protest actions for the anniversary of the October 1 referendum, but deny any intention to hurt anyone.
The arrests of the activists have caused much consternation within Catalonia's independence movement, which has always explicitly rejected violence as a means for achieving its political objectives.
Arrests spark political debate
On Wednesday in parliament, president Quim Torra was at pains to distance the pro-independence camp from any links to violence, vowing: "I will never allow a radically democratic movement to be associated with terrorism. Never."
Yet, the unionist parties in Catalonia have seized on the arrests as justification for their concerns over the independence issue. Ciutadans' leader, Lorena Roldán, accused Torra on Wednesday of "whitewashing terrorism" by showing public support for the detainees.