Unionist Ciutadans accuses president of 'whitewashing' terrorism
Party leader Lorena Roldán shows picture of 1991 ETA terror attack, which president calls "huge irresponsibility"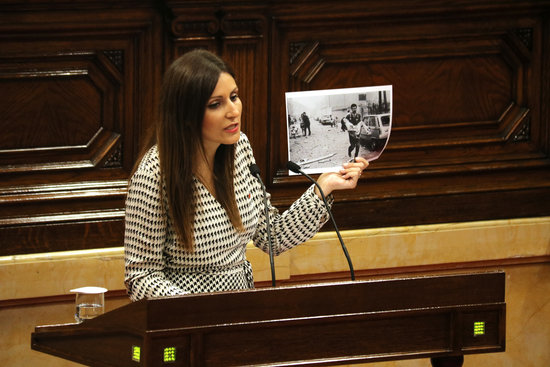 Catalonia's main opposition party accused president Quim Torra on Wednesday of "whitewashing terrorism" by showing public support for nine pro-independence activists who were arrested on Monday accused of terrorism, rebellion, and possession of explosives.
This came as a response of Torra's speech in the morning, in which he flatly denied linking the independence camp with violence or terrorism.
Speaking in parliament at the annual general policies debate, Ciutadans party spokeswoman, Lorena Roldán, warned Torra that he is "playing with fire" in backing the activists suspected of plotting violent acts, and she called on him to change his attitude.
ETA attack picture shown
Roldán even held up a photograph of the attack by Basque terrorists on a Guardia Civil police barracks in the Catalan city of Vic in 1991 killing 10 people, asking when the "madness" of the push for independence will end. "Do we have to suffer a tragedy first?" she asked.
Speaking with Catalan News afterwards, another Ciutadans MP, Nacho Martín Blanco, backed his leader's words. "[President Torra] is telling them to keep going and defending the cause of these terrorists or violent people," he said. "I think he's a very irresponsible person".
As for fellow unionist party, the Catalan People's Party, MP Santi Rodríguez regretted that Torra should use his address to "feed the October 1 revolt," in reference to the failed independence bid that began with a unilateral referendum on October 1, 2017.
President: "Huge irresponsibility"
Roldán showing such picture sparked controversy in Parliament, and Torra himself called her move "huge irresponsibility."
"You should never have shown this picture," he added, criticizing lack of "presumption of innocence" by her.
Roldán denies likening independence and terrorism
On Thursday morning, when asked about the picture in a radio interview, Roldán denied having putting the Catalan pro-independence movement on the same level of terrorism.
Her intention, she argued, was to remember Basque terrorism so that the same "mistakes" of the past are not committed again. "The country has already poured enough blood for political ideas."