Spanish president says 'progress' in Catalonia-Spain talks more important than his presence
Pedro Sánchez remains coy over his attendance at negotiations scheduled for third week of September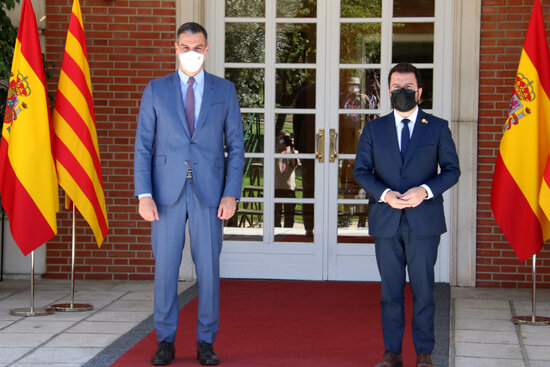 Spanish president Pedro Sánchez has continued to remain coy over whether or not he will attend the talks between his government and the Catalan executive, scheduled for the third week of September.
"The most important thing is not whether or not I attend; the important thing is whether there is progress in this [negotiation] table, and we must all work on this," Sanchez said in a Sunday interview with Spanish newspaper El País.
Sánchez also pointed out that he has met with former and current Catalan leaders already during his term.
"I have always stated that my readiness for dialogue is total. I have met with President Torra, with President Aragonés and in this very room I met with the delegation of the [previous] Catalan government."
The Spanish president would not be drawn on Aragonés' deadline of 2030 for a Catalan independence referendum.
"Catalonia needs a government that emerges from the stumbling block it has been in the last 15 years, talking about issues that - legitimately, for them, are very important - but that today, after the pandemic and the social, economic and health consequences, have probably been reduced," he said.
Resumption of talks
After years of political animosity between Catalan and Spanish governments, the agreement in June to resume bilateral talks aimed at addressing the independence conflict was hailed as a paradigm shift in the ongoing territorial dispute.
But, as Spanish officials have cooled on the prospect of an agreed referendum, some pro-independence parties see little point in sitting down at the negotiating table, meaning it remains uncertain how long the talks will last and, most importantly, whether they will be able to produce any substantial outcomes.