Spanish president rebuffs Torra's offer to talk during Barcelona visit
Pedro Sánchez leaves Catalan capital after visiting police officers injured in recent disturbances without replying to president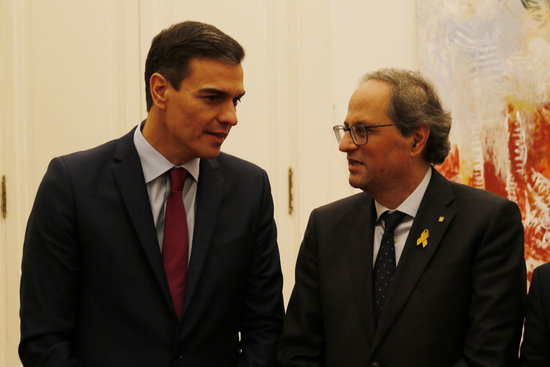 Pedro Sánchez left Barcelona on Monday afternoon without taking president Quim Torra up on his offer for talks while the acting Spanish president was in the Catalan capital.
Sánchez visited police officers who had been injured in the recent disturbances that have taken place in Barcelona following the sentencing of Catalan leaders to prison for sedition.
Torra made his offer on Monday in a letter, saying, "I wanted to notify you of my availability to meet with you today," and expressing his "wish" to talk "without imposing any conditions."
Yet, Sánchez left Barcelona in the early afternoon after visiting the Spanish National police station on the Via Laietana avenue, and the Sagrat Cor and Sant Pau hospitals.
Sánchez demands Torra "roundly" condemn violence
Torra's letter was published on Monday in response to a missive from Sánchez calling on the Catalan president to "roundly" condemn the recent violent protests in Catalonia.
The acting Spanish president had written to Torra in order to remind the Catalan president of his obligations to ensure public safety and preserve social harmony.
Torra replied by letter after attempts to contact Sánchez by phone over the weekend had failed. "I do not take that as a positive sign of a willingness to engage in dialogue," he wrote.
The president also said "the obligations of any leader" consist of respecting citizens rights, fostering dialogue, and allowing citizens "to express themselves democratically."
Colau gets call from Spanish president
Yet, Barcelona mayor, Ada Colau, said on Monday that she had received a call from Sánchez, in which she urged the acting Spanish president to talk to Torra.
"We should always answer the phone," Colau told Catalunya Ràdio, adding that if the presidents would not talk, then they should at least find a way to "deescalate the conflict."
"We're more stubborn," Sánchez tells police
On his visit, Sánchez gave "thanks, solidarity and support" to the National Police, saying the protesters "probably want to persist with this crisis, but we're much more stubborn."
"It's clear that the radicals and violent groups have decided that Barcelona is the theater of operations," added Sánchez, who went on to meet with some injured journalists.
By roughly 1.30 pm, the acting Spanish president had concluded his visit to Barcelona, but without meeting with Torra.