Spanish PM and Catalan president to meet 'before summer vacation'
Presidency ministers agree to work towards resuming negotiations following espionage scandal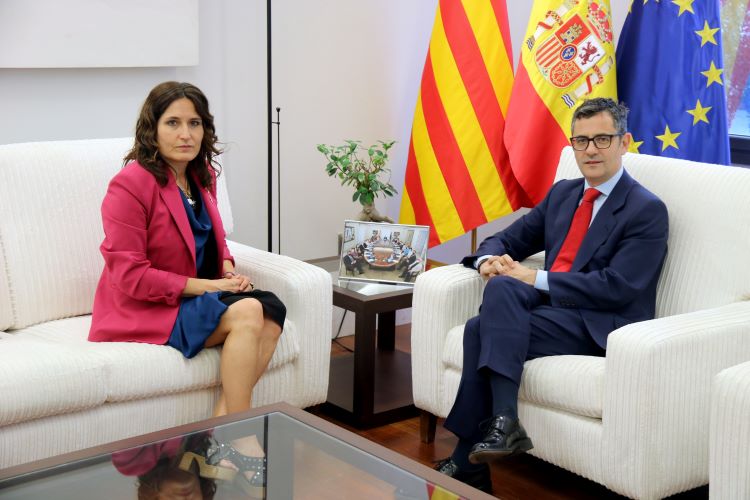 Spanish PM Pedro Sánchez and Catalan president Pere Aragonès will meet "before summer vacation."
This is what was agreed on during a meeting between Catalan presidency minister Laura Vilagrà and Spanish presidency minister Félix Bolaños in Madrid on Wednesday, two months after the Catalangate espionage revelations, but an exact date has not been set.
Vilagrà and Bolaños have also agreed to work towards resuming negotiations regarding the independence conflict, which have long been stagnant.
"The process of working towards de-judicializing is open," the Catalan politician said in a press conference after the meeting, adding, however, that ties between Barcelona and Madrid are yet to be restored - days after the Pegasus spyware scandal hit the news, Aragonès announced that his cabinet's relationship with Spain would be put on hold.
Catalangate: authors of espionage on over 40 still unknown
Over 60 pro-independence politicians, activists, and their close associates have been the target of Pegasus spyware in the past few years in what is the world's largest known cyberattack of its kind.
CitizenLab, the researcher group responsible for the findings, said some unknown entity within the Spanish state had been in charge of the espionage. After several days, Madrid admitted that Spain's intelligence center (CNI) had investigated 18 out of the over 60 individuals, and with judicial approval.
CNI's head was dismissed three weeks after the events were first published, but no explanation of the alleged espionage to over 40 people has been given.
Only a third of planned public investment for Catalonia in 2021 carried out
Another major complaint from Catalonia is the fact that only a third of the funds allocated in the Spanish 2021 budget for investments in Catalonia were actually invested.
That is, €739.9 million, meaning that two-thirds of the projects planned were never executed.
This is not a new issue – on the contrary, this is one of the main arguments of the pro-independence movement over the years. Yet, since the figures for 2021 have been recently published, the complaints are back on the agenda.
The investment carried out in the Madrid region was 184% of the amount foreseen in the spending plan (€2.08 billion).