Catalan Parliament calls for resignation of Spain's defence minister over Catalangate
Pro-independence parties want to see Robles replaced after head of intelligence agency was dismissed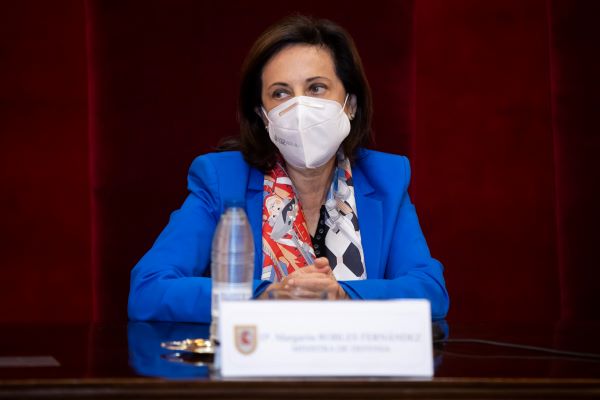 The Catalan parliament has passed a text calling for the resignation of Spain's defence minister Margarita Robles "essential" over the Catalangate espionage controversy.
The text was backed by all pro-independence parties in the chamber, Esquerra Republicana, Junts per Catalunya, and CUP, and also passed with the abstention of left-wing En Comú Podem.
The agreed text wants to see Robles replaced in her position for statements "recognizing and justifying mass espionage of political dissidents, lawyers and civil society, unworthy of a full democracy committed to human rights."
Robles seemingly justified the espionage in the Spanish Congress when the issue was brought up in the chamber. "What should a state, a government, do when someone violates the constitution, someone declares independence, when someone blocks off roads, when someone leads public disorder, when someone has relations with leaders of a country that has invaded Ukraine?"
What is Catalangate?
Catalangate is the name that Citizen Lab, a University of Toronto-based research group that reports on high-tech human rights abuses, gave to its investigation into the espionage of at least 65 Catalan pro-independence politicians, activists, and their close associates.
It is "the largest forensically documented cluster of such attacks and infections on record," the New Yorker published in April.
Catalan politicians point the finger at the Spanish government and the Spanish intelligence agency, CNI, for the phone hackings which used the Pegasus spyware developed by Israeli cybersecurity firm NSO Group.
However, Spanish officials assert that the hackings were "external" and "illicit" after they announced they found that the devices of Spain's PM Pedro Sánchez, defence minister Robles, and interior minister Fernando Grande-Marlaska were also targeted by the spyware.
Fallout of Catalangate
Earlier this week, the Spanish government dismissed the head of the intelligence agency, Paz Esteban, replacing her with Esperanza Casteleiro. However, many pro-independence voices say this dismissal is not enough to resolve the matter, with CUP MP Mirea Vehí calling it a "smokescreen" to prevent a minister from assuming the "responsibilities policies." Catalan officials want to see the defence minister Margarita Robles also removed from her position.
The president of Catalonia, Pere Aragonès, warned the Spanish government that it cannot for granted that the Catalangate crisis is resolved after the dismissal of Paz.
For his part, Pedro Sánchez has promised to hold an official meeting with Aragonès to speak about the controversy and consequences of which in person. This has not gone down well with ERC's government partners Junts, whose spokesperson in parliament, Albert Batet, warned Aragonès that "we cannot have a dialogue with someone who spies on us."
Sánchez will also appear before the Spanish Congress on May 25 or 26 to give explanations about the hacking of his device plus those of the Spanish defence and interior ministers.
The issue has also been raised in the European Parliament's committee of inquiry to investigate the use of Pegasus and equivalent surveillance spyware on Tuesday.