Spanish government will begin considering pardons for jailed leaders next week
Cabinet also says reform of criminal code, including lowering the crime of sedition, will begin soon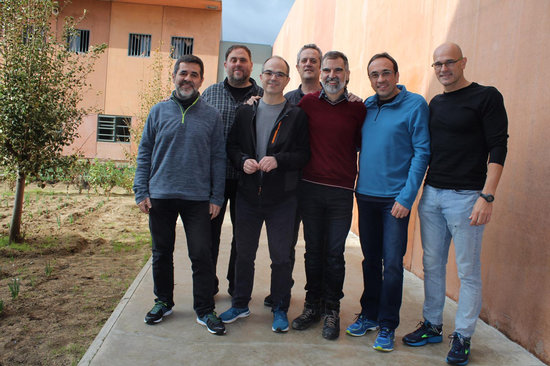 The Spanish government will begin to consider the pardon request for the jailed Catalan pro-independence leaders next week.
In a plenary session in Congress on Wednesday morning, Spain's justice minister, Juan Carlos Campo, said that his cabinet will begin to "accept for consideration" the request in the coming days.
Carlos Carrizosa, of unionist party Ciudadanos, has described this as "the result of opaque negotiations between political forces."
Several individuals have requested a pardon for the jailed leaders in the past year, including lawyer Francesc Jufresa, on December 23, 2019, who made a petition for the 12 convicted officials.
According to Campo's office, once the requests are accepted for consideration, the Spanish government will have to listen to all sides in the Catalan trial, including the public prosecutor and the Supreme Court through a report.
The government of Pedro Sánchez could make a decision in between four and six months, say the same sources – in principle, the cabinet has a year to have their say.
Yet, in a RAC1 radio interview with lawyer and MP for En Comú Podem, Jaume Asens, the timings could be prolonged as the Supreme Court could take "months" to send their report on the case to the Spanish government.
A pardon for the crimes of sedition and misuse of funds is to be decided exclusively by Pedro Sánchez's cabinet.
In parallel, Campo also said that a reform of the criminal code, including lowering the crime of sedition, will also begin soon.
The minister said that Spain's criminal code should "match" with that of other European countries when it comes to this crime – nine of the twelve convicted leaders for their role in the October 1, 2017 referendum were sentenced to between 9 and 13 years in jail for the crime of sedition.
The reform has to go through Congress, where it is likely to get the support of a majority of MPs, and according to Asens, it could be a "quicker" way than the pardoning for the jailed leaders to leave prison.
Yet, this would only affect the crime of sedition and not the misuse of funds, and for Asens, the reform might not mean an automatic release because some leaders might still have to serve some time for misuse of funds – some have already spent almost three years behind bars.