Spanish government takes 'civil disobedience' motion to court
Madrid asks judiciary also to suspend resolution on self-determination and to warn Catalan cabinet of possible criminal charges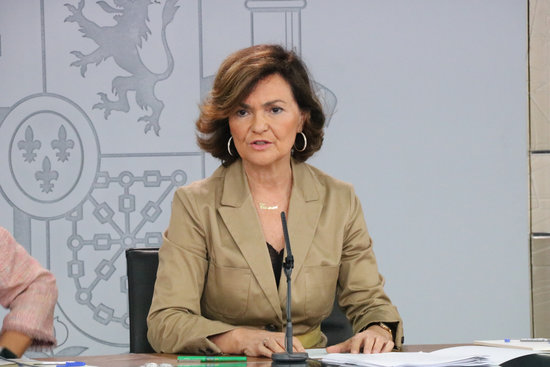 The Spanish government has challenged a Catalan parliament motion in favor of self-determination and civil disobedience.
The Madrid cabinet decided on Friday to take the resolutions passed on September 26 to the Spanish Constitutional Court.
The same court suspended a previous motion also in favor of self-determination and rejecting monarchy on Thursday.
The executive led by Pedro Sánchez asked also the judiciary to warn the Catalan cabinet of incurring in possible criminal charges.
September 26 motion
The majority of lawmakers in the Catalan chamber passed a motion on September 26 asking for "an agreement for self-determination, amnesty, and political and civil rights."
The motion was approved by the three pro-independence groups in Parliament, Junts per Catalunya, Esquerra and CUP.
The same groups have also passed another motion accepting "the legitimacy of civil and institutional disobedience as a means to defend the civil, political and social rights that can be violated."
These parties' lawmakers also passed another text requesting that the Spanish Guardia Civil police, in charge of Monday's arrests leading to the precautionary detention of seven people on terrorism charges, be removed from Catalonia.
The day after, the Spanish government announced that it would challenge such motions.
"They are an attack on coexistence among Catalans," said Spain's government spokesperson Isabel Celaá on Friday after informing the press of the ministers' agreement. "This government will not accept any attack on Catalonia's [self-rule] statute or the constitution," she added, urging "coexistence, respect and dialogue within the legal framework."