Solicitor General asks Supreme Court to suspend Puigdemont and Comín's arrest warrants
Rosa María Seoane says court should first ask European Parliament to lift the politicians' immunity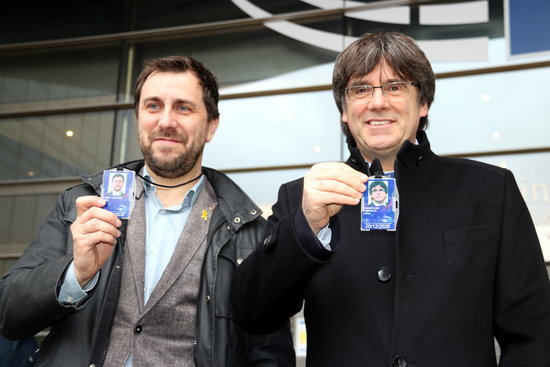 Spain's Solicitor General, Rosa María Seoane, has asked Supreme Court judge Pablo Llarena to suspend the European Arrest Warrants issued for former Catalan president Carles Puigdemont and former Catalan minister Toni Comín, currently residing in Belgium, for their role in the 2017 independence bid.
The Solicitor General believes that Llarena should first ask the European Parliament to withdraw their parliamentary immunity before reissuing arrest warrants for the pro-independence politicians.
Both Puigdemont and Comín were elected in the May 2019 European election but prevented from taking up their MEP seats by Spanish authorities.
They were only provided parliamentary accreditation and access into the chamber after the European Court of Justice ruled on December 19 that jailed Oriol Junqueras, who had also won a seat and was barred from taking it up, had immunity from the moment he was elected.
Seoane agrees that the ECJ immunity ruling also applies to Puigdemont and Comín, which is why she has argued that the European Parliament must revoke their immunity before being able to proceed with their arrest.