Socialist and Podemos coalition plan vows to 'tackle Catalan conflict through dialogue'
Higher tax on wealthy, repealing labor reforms, and capping "abusive" rents among pledges of future Spanish government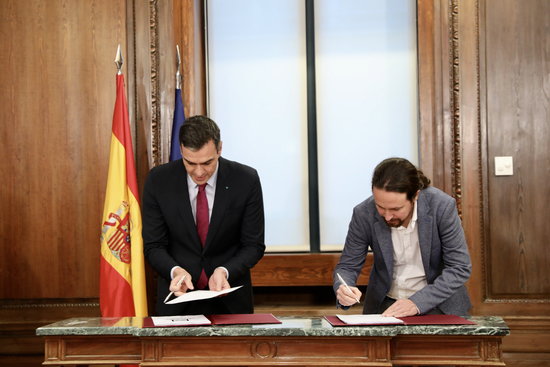 As investing Pedro Sánchez at the head of a Spanish government draws closer, the Socialist and Unidas Podemos parties have presented their plans for a coalition executive, such as tackling the Catalan conflict, higher tax on the wealthy and repealing labor reforms.
The document 'Coalición progresista. Un nuevo acuerdo para España' (Progressive coalition. A new deal for Spain) was officially presented by the two party leaders, Sánchez and Pablo Iglesias, at 5pm on Monday evening.
With Sánchez reaching a deal earlier in the day to gain the votes of the Basque PNV party, it remains to be seen whether the Catalan pro-independence ERC party will agree to abstain and thus allow Sánchez's bid in congress to succeed.
Talks between Sánchez's PSOE party and ERC have been going on for weeks, although the pro-independence party has warned that it will not convene a meeting of its National Council to make a final decision on its position before the end of the year.
Onus on "dialogue, negotiation and agreement"
Yet, the ERC leadership will meet beforehand to evaluate Sánchez and Iglesias' plans for a coalition government to consider the document's stated commitment to "tackle the Catalan political conflict" through "dialogue, negotiation and agreement."
Catalonia also appears in the document in the section devoted to Spain's autonomous communities, where it makes a pledge to devolve all powers that have not yet been transferred to the Catalan government, such as university grants or health training.
Tax hike on wealthy, repeal of labor reforms
In general, the coalition plans foresee raising income tax on wealthier earners, with an extra 2% on salaries over 130,000 euros and 4% on those over 300,000 euros, while also freezing the tax rate for large firms at 15% and raising it to 18% for fossil fuel companies.
PSOE and Podemos also want to raise the minimum wage, to recover "the labor rights snatched away" by the 2012 reforms of the former conservative PP government, as well as to place a cap on "abusive" increases in rents.