EU Parliament lifts former Catalan president and minister's ban on entering chamber
Decision affecting MEPs-elect comes after EU court ruling on Oriol Junqueras' immunity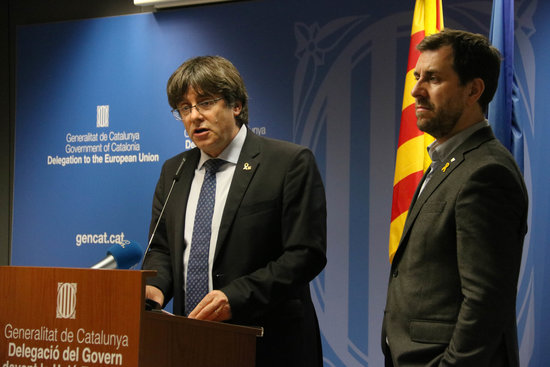 The European Parliament has lifted former Catalan president Carles Puigdemont and former Catalan minister Toni Comín's ban on entering the chamber following the European Court of Justice's ruling on Thursday morning stating that jailed Oriol Junqueras had parliamentary immunity from the moment he was elected MEP in May.
This announcement comes hours after European Parliament president David Sassoli said that the chamber would "evaluate the possible application" of this ruling while also calling on Spain to "align with" it.
Neither Puigdemont nor Comín had been able to enter the chamber since October when their European Arrest Warrants issued by Spain for their roles in the 2017 independence bid were renewed. Although they may now enter the chamber, their warrants have not been terminated.
The decision to let them enter the European Parliament does not mean they have been recognized as MEPs, but it could possibly be a first step in that direction depending on the specific findings of the report that Sassoli has asked the chamber's legal services to carry out on the matter.
Sassoli has requested that the European Parliament's legal services quickly determine the implications the ECJ's ruling has on the three Catalan politicians who were not allowed to take up their MEP seats by Spanish authorities despite being elected in the May 26 vote.