Puigdemont meets with world leaders in Geneva
Crans Montana Forum attended by presidents of Armenia, Bangladesh and Lesotho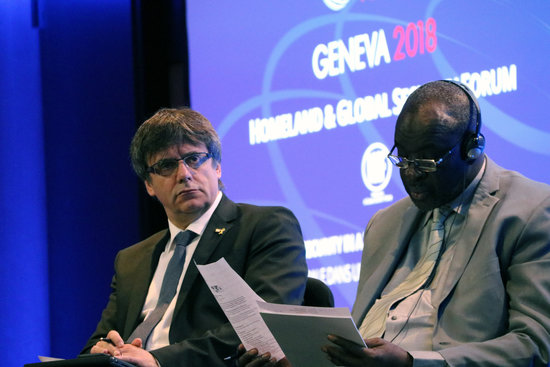 Former Catalan president Carles Puigdemont attended the Crans Montana Forum in Geneva on Thursday, where he met world leaders, such as the presidents of Armenia, Bangladesh, and Lesotho.
Puigdemont addressed the audience at noon to explain the political situation in Catalonia and its impact on European Union security.
"It's time to vindicate the right to self-determination as a tool for peace that allows us to prevent conflicts," said Puigdemont.
Puigdemont was the head of the Catalan government a year ago, when a referendum on independence was held despite Spain's opposition. Accused of violent rebellion, he left the country alleging he did not trust Spanish courts to offer him a fair trial. Currently based in Waterloo, Belgium, he has become Catalonia's most well-known politician internationally.