Puigdemont gives way to jailed Jordi Sànchez as president
From Brussels, the deposed Catalan leader presents a lawsuit against Spain before the UN Human Rights Committee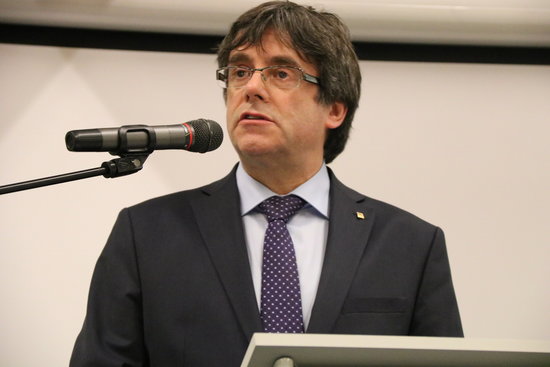 Carles Puigdemont is giving way as Catalan president. In a video speech recorded in Brussels and published on Thursday evening, he told the Parliament speaker, Roger Torrent, that he is "provisionally" renouncing his candidacy.
The pro-independence bloc agreed on him being the leader of the country again, but the Spanish authorities opposed his bid and the situation remained in a stalemate until now, with Catalonia still lacking president and government. Yet Puigdemont gave way and proposed a successor: Jordi Sànchez.
In the video, he called the speaker to start a round of consultations with parties and said that his candidacy, Junts per Catalunya, will propose Sànchez for the post. It is very likely that Sànchez has been greenlighted for president by the other two pro-independence parties, Esquerra and CUP, who are necessary to achieve the majority in the chamber.
However, Jordi Sànchez has been in prison for the last four and a half months, accused of sedition, following his role in a demonstration against Spanish police raids in the run-up of the October 1 referendum. The fact that he is behind bars makes it unclear for him to be sworn in. The Spanish Supreme Court should give him permission to attend the debate, which did not happened when also jailed MP Oriol Junqueras asked for a similar permission. The Spanish government is skeptical on the fact of having a jailed MP appointed as president.
Puigdemont also announced that he is to present a lawsuit against Spain before the UN Human Rights Committee.
Risk of more direct rule from Madrid
However, direct rule of Catalonia from Madrid may continue if the pro-independence bloc tries to swear inSànchez. This is what two Spanish government members has hitned recently, when rumours first surfaced of intentions of swearing in the jailed leader from prison. Talking to the COPE Spanish radio station, Rajoy's cabinet spokesman Íñigo Méndez de Vigo said that "if there is no legally formed government, Article 155 will continue," referring to the provision in the Spanish Constitution enabling direct rule. According to him, Catalonia must have a president "fully able to exercise" his duties for the constitutional article to be lifted.