Puigdemont files complaint against EU Parliament heads over denied access
European Parliament withdraws all temporary accreditations given to Spanish MEPs-elect to avoid "political problems" with Spain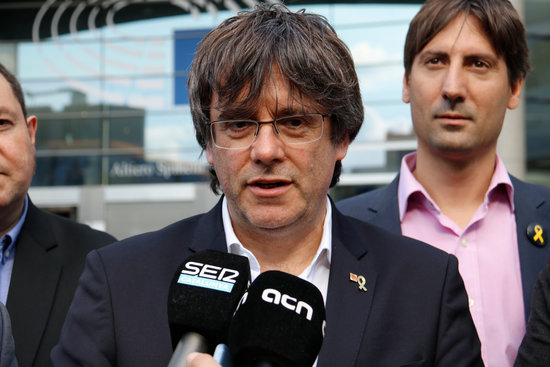 The EU Parliament's decision on Wednesday to deny Carles Puigdemont entry into the chamber will give much to talk about.
The former president and now MEP-elect has filed a formal complaint to the head of the chamber, Antonio Tajani, and Secretary General Klaus Welle, the official who, according to Puigdemont, took the decision to not let him into the parliamentary building on Wednesday evening.
Puigdemont, along with exiled MEP-elect Toni Comín, reported their inability to become temporarily accredited by the chamber pending the approval of the final paperwork.
EU Parliament sources told the Catalan News Agency that Puigdemont and Comín might not be allowed inside the building until they have "effectively registered" as MEPs — a contentious requirement as the chamber's legal team claims that the pro-independence leaders would have to return to Spain, thereby risking arrest in order to assume their posts.
Other MEPs were initially granted temporary accreditation while Puigdemont and Comín were not allowed to enter the building, with the main Spanish parties asking the house to not register any elected MEPs without paperwork provided in Spain shortly afterwards.
On Thursday evening the European Parliament then decided to withdraw all temporary accreditations given to MEPs-elect to avoid "political problems" with Spain.
In their complaint, the former president and the former minister also ask for the "paperwork demonstrating the ban" and they want access to the CCTV footage of the moment in which they were prevented from entering the venue.
Puigdemont, in reference to these events, complained to the European Ombudsman, Emily O'Reilly, of "discriminatory treatment."