PSOE and ERC gear up for Barcelona talks on investing Sánchez
First meeting in Catalan capital between Spanish Socialists and pro-independence Esquerra aims at reaching agreement to form new government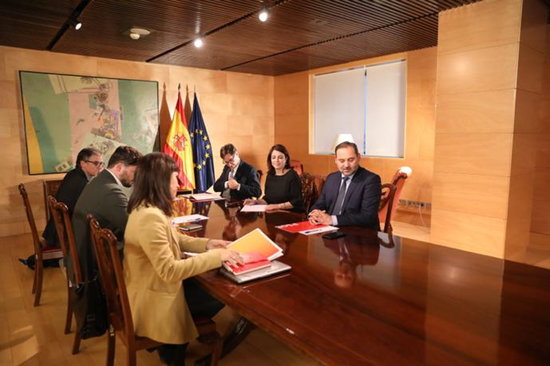 Tuesday lunchtime will see a third meeting take place between the Spanish Socialists (PSOE) and the pro-independence Esquerra Republicana party (ERC), aimed at reaching an agreement to invest PSOE leader, Pedro Sánchez, as President of Spain.
The summit in Barcelona comes on the back of a preparatory meeting held behind closed doors in the headquarters of the Zona Franca Consortium on Monday evening, which was not announced beforehand and only later confirmed by ERC.
Monday's meeting was held in preparation for the main encounter between the negotiation teams of both parties, which will be the first official summit held in the Catalan capital since the Socialists reached out to ERC for its support in the Spanish congress.
In exchange for its cooperation, ERC has four demands: recognition of a political conflict between Catalonia and Spain, a no-holds-barred agenda - including self-determination-, a timetable for negotiations, and guarantees that any deals will be honored.
So far in the talks, the Socialists have expressed some urgency over reaching agreement "the sooner the better," hoping to be able to invest Sánchez as president and so form a viable Spanish government before Christmas.
However, ERC says "we are in no rush," insisting that agreement is still "some way off" and predicting that a "possible agreement will probably be in January," according to party spokeswoman and one of the negotiators, Marta Vilalta.
Pressure from pro-independence camp
Esquerra Republicana might be the largest pro-independence party in the Spanish congress, but that doesn't mean that the independence camp is backing the party's talks with the Socialists.
The Committees in Defense of the Republic (CDR), one of the main protest groups in Catalonia, described the negotiations as a "fraud" and an "insult." The CDRs claimed that Catalan parties should refuse any talks as long as their leaders remain behind bars.
Esquerra officials have also been under pressure from Junts per Catalunya (JxCat) party, their partner in the Catalan government, which has adopted a tougher approach to independence backed by the party leader, former president Carles Puigdemont.
Yet, JxCat sent a message of support for the negotiations on Tuesday by putting on hold a parliamentary motion in favor of self-determination, acknowledging that it could "make negotiations more complicated".