Protesters rally in Madrid against pardons for Catalan pro-independence prisoners
Leaders of People's Party, Ciudadanos and the far-right Vox among 25,000 at Plaza de Colón demonstration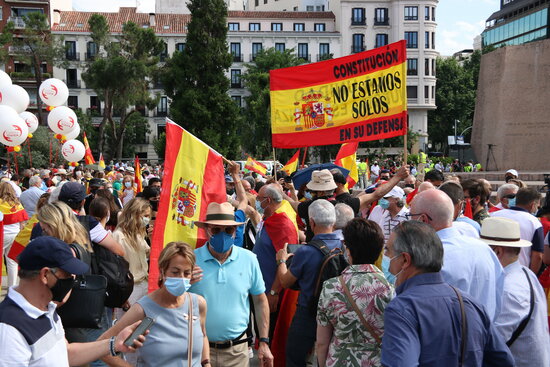 Protesters and politicians have gathered in Madrid's Plaza de Colón to demonstrate against the proposed pardons for Catalan pro-independence prisoners.
The leaders of the right-wing People's Party, Ciudadanos and far-right Vox all attended Sunday's rally, but unlike a previous demonstration in the same square in 2019, declined to be photographed together.
For weeks, Spanish government officials and members of the ruling Socialist party have been paving the way towards granting pardons for Catalonia's jailed pro-independence leaders, a contentious and politically-charged decision that could come to define Pedro Sánchez's presidency.
Former Catalan vice president, Oriol Junqueras, who has been in jail for almost four years for his role in the 2017 independence referendum, suggested in an article on Monday that he would support the granting of a pardon for him and the other eight politicians and activists behind bars.
25,000-strong crowd
Some 25,000 people attended the rally, according to the Spanish police. The organizers of the rally, Union 78, closed off access at 11.30am, half an hour before the event was due to start, saying that capacity had been reached. Those attending were asked to respect safety distances and wear face coverings at all time.
Union 78 said the protest was called because they "do not intend to passively tolerate the conversion of blackmail into a normal political procedure, as would happen with the granting of pardons to convicted coup plotters." They claim the pardons serve no purpose other than keeping Sánchez in power "at any price."
Spain's minority governing coalition has to rely on the votes or abstention of other parties, including pro-independence Esquerra Republicana, in order to pass legislation in Congress.
Joint photograph debate
While Vox's parliamentary spokesperson said they were attending "en masse," there wasn't quite the same level of conviction shown from the ranks of Ciudadanos and the People's Party.
Ciudadanos members were there "in a personal capacity," Arrimadas said, adding "it is not the parties that demonstrate, but the people." The party, which has suffered heavy electoral defeats recently in Catalonia and Madrid, did not wish to be photographed alongside members of Vox.
There has been debate too within the People's Party about the wisdom of protesting alongside the far-right party. PP leader Pablo Casado was joined by the regional presidents of Madrid and Murcia, as well as representatives from the Catalan branch of the party, but several high-profile figures were absent, including the heads of government in Galicia, Andalusia, and Castile and León.
Addressing the media before the protest, Casado asked the Spanish president to show "respect for national unity and the Constitution."
"Spain yes, pardons no," he concluded.
Vox leader Santiago Abascal said there should be "no shame" about a photo together in order to show unity.
"The photo that embarrasses all Spaniards is the photo of the nation's government, ruling and kept in power thanks to the enemies of Spain, the constitutional order and freedoms. In other words, totalitarian communism, coup separatism and terrorists," he said.
"We love Spain and Catalonia"
Some protesters traveled from outside the Spanish capital to attend the rally, including Maribel, who took an overnight bus from Alacant (Alicante).
"We're here because we love Spain and Catalonia, a Spain forever united, that if we don't defend, they will break," she told the Catalan News Agency (ACN).
Independence leaders in prison, who "staged a coup," she said, "cannot be left unpunished."
Julio, a Vox voter, said the pardons were "an aberration" and demanded the resignation of Spanish president Pedro Sanchez.
Pardons "close"
Pardons for the jailed pro-independence leaders are "close" to being granted, according to Spanish vice president Carmen Calvo.
In an interview published by La Vanguardia on Sunday morning, Calvo called on the People's Party not to confront "all of Catalonia," and said the pardons were "not a matter of small political calculation, but of big vision."