Prosecutor calls for arrest of three former Catalan ministers in exile
Supreme Court official requests reissue of extradition orders for Toni Comín, Lluís Puig and Clara Ponsatí on charges related to 2017 independence bid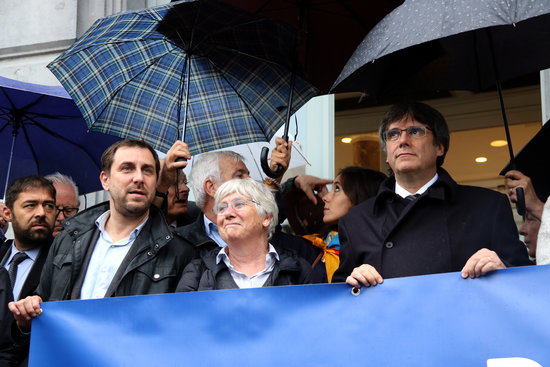 Spain's Supreme Court prosecutor has applied for the international arrest warrants for three former officials in exile who were Catalan government ministers during the failed independence bid in 2017 to be reissued.
The prosecutor is demanding the extradition of Toni Comín, Lluís Puig and Clara Ponsatí, who went to Belgium to avoid arrest in the wake of the independence referendum and parliament's declaration of independence in October 2017.
Comín and Puig are currently living in Belgium, while Ponsatí is in Scotland. Previous extradition orders issued for all three former ministers were refused by the respective judiciaries of the countries in which they now reside.
The prosecutor is asking for Comín and Ponsatí's extradition on charges of sedition and misuse of public funds, and Puig for misuse of public funds and disobedience. The request also includes warrants for their detention should they travel to non-EU countries.
Warrant reissued for Puigdemont
On October 15, Spain issued a new international arrest warrant for former president, Carles Puigdemont, who is also in exile in Belgium. However, in a hearing this week, a Brussels court adjourned his case until December 16.
The extradition requests do not include former minister, Meritxell Serret, who is also in Belgium, nor former MP for the far-left CUP party, Anna Gabriel, who went to Switzerland in 2017 to avoid a court summons.
On October 14, Spain's Supreme Court sentenced nine former Catalan ministers and two activist leaders to between nine and 13 years in prison for sedition and misuse of public funds for the role in the independence bid.