Pro-independence unity and pacts with Socialists dominate TV debate
Proposals for common independence front in congress gets cool reception, while candidates accuse Sánchez of seeking allies on the right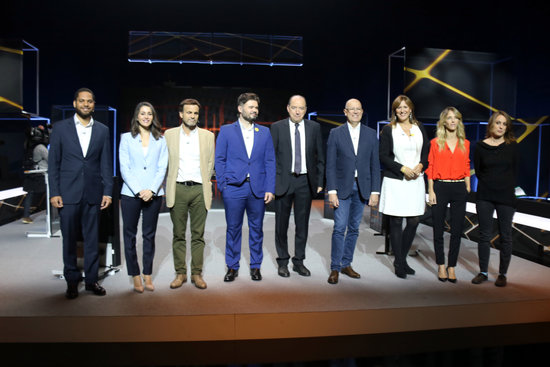 How the pro-independence parties should respond to the jailing of Catalan leaders, and what agreements Spain's Socialist Party might seek to secure a majority were two of the main points discussed in Tuesday night's election debate on Catalonia's television channel, TV3.
The main candidates in Catalonia contesting the November 10 general election turned out for the debate, and as might have been expected, it was the representatives of the parties in favor of independence and those from the unionist parties who butted heads most.
However, there was also a lack of consensus between the pro-independence parties themselves, and the proposal by Junts per Catalunya (JxCat) for them to use their seats in the Spanish congress to form a common front received a mixed response.
"We propose guaranteeing a large pro-independence group in congress, with all MPs together. It'd be a new voice in congress, with all the accents of the independence camp and without the divisions we have suffered from so far," said JxCat's Laura Borràs.
Yet, Mireia Vehí from Candidatura d'Unitat Popular (CUP) shot down the proposal. "We don't think the more pro-independence seats in congress, the closer we'll be to a democratic solution," she said, pointing out that the Socialists have ruled out self-determination.
Gabriel Rufián of Esquerra Republicana (ERC), whose party is in government in Catalonia with JxCat, did not address Borràs' suggestion during the whole debate, even after the JxCat candidate specifically asked him to do so after the first commercial break.
Socialists and the right
Meanwhile, how Pedro Sánchez's Socialist Party (PSOE) might go about securing enough support in the chamber to form a functioning government should PSOE win the election without a majority, as it did in April's election, was another key point discussed.
Candidate for the Catalan Socialist Party (PSC), José Zaragoza, warned that "Sánchez's defeat would mean victory for [Pablo] Casado and [Santiago] Abascal," the heads of the conservative People's Party (PP) and the far-right Vox party, respectively.
Zaragoza also denied Rufián's accusation that Sánchez's meetings with the heads of the unionist PP and Ciudadanos (Cs) parties was tantamount to "asking for the votes of the right." "We pledge not to reach an agreement with PP," said the PSC candidate.
Jaume Asens, the candidate for En Comú Podem, also attacked the Socialists for failing to achieve a left-wing coalition following April's election - which led Sánchez to call this snap election - accusing PSOE of "looking to the right" and even "imitating" PP and Cs.
PSOE and ERC
Yet, the PP candidate Cayetana Álvarez de Toledo, said Sánchez's refusal to rule out an agreement with ERC, means he is interested in pacting with the republican party: "PSC is here to openly confess and tie up the operation, saying it wants an agreement," she said.
The candidate for Vox, Ignacio Garriga, agreed that an understanding with ERC was PSOE's preference, and he punctuated his comments showing photographs of former Socailist presidents alongside previous Catalan leaders, such as Jordi Pujol and Artur Mas.
As for Cs' Inés Arrimadas, she reiterated her party's determination to "stop nationalism in its tracks," and insisted it was something neither PSOE or PP are capable of. "If the same parties continue, nationalism will continue out of control," she said.