Pro-independence parties pledge to not form government with Socialists
Illa hits back by accusing written agreement excluding his force of "perpetuating hatred"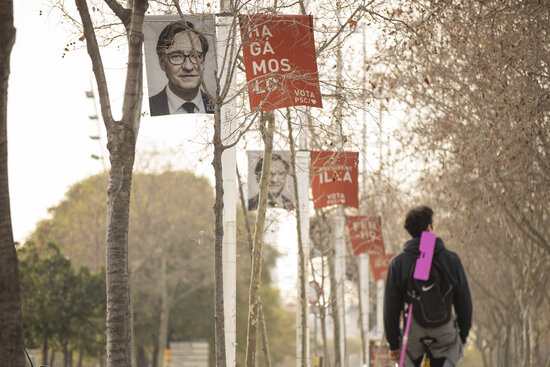 All pro-independence parties including the four main ones running in Catalonia's election on February 14—Junts per Catalunya, PDeCAT, CUP, and Esquerra Republicana—signed a written agreement on Wednesday evening promising not to form a government with the Socialists.
"No matter what the results of the polls may be, in no case will an agreement be reached with the Socialists," the text of the document, which was drafted by an association called Catalans for Independence, reads.
Signed by presidential candidates Laura Borràs (JxCat), Àngels Chacón (PDeCAT), and Dolors Sabater (CUP), as well as ERC's communications secretary Sergi Sabrià, the document states that the parties made a commitment to achieve independence in 2017 but were "unable to develop a joint strategy" for that aim or to "face Spain's repression."
According to the manifesto, however, the election on Sunday could be "an opportunity" to obtain the support needed to make Catalonia an independent republic.
According to Borràs, her party "had no problem" signing the agreement. "Our stance is so clear and has always been this way," she said.
Socialists decry "hatred and decadence"
Salvador Illa, the former Spanish health minister turned Socialist frontrunner in Catalonia, strongly denounced the pro-independence parties' pact, calling it "an error" and them of "perpetuating hatred and decadence."
In an interview with Antena 3 and Cadena SER on Thursday, the politician likened the pro-independence agreement to that reached by far-right Vox, Ciudadanos, and the People's Party barring the Socialists from governing in Andalusia after they failed to win an absolute majority in the 2018 regional election.
The leaders of these three forces were famously photographed together during a "United Spain" march that was held at Madrid's Plaza Colón, inspiring Illa, two years later, to describe the Catalan manifesto as "the pro-independence force's Colón photo."
Meanwhile, the People's Party's candidate in Catalonia, Alejandro Fernández, argued that Esquerra Republicana only signed the document because of unfavorable polls.
"The agreement between Esquerra Republicana and the Socialists remains in full force," he contended, referring to municipal agreements and the Spain-Catalonia negotiating table on independence.