Socialist candidate under fire for not getting Covid-19 test ahead of televised debate
TV3 public broadcaster had requested PCR or antigen test of all politicians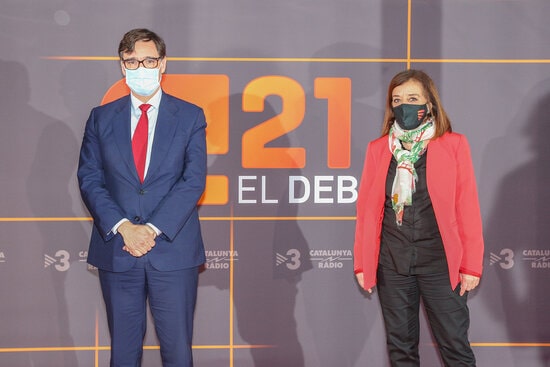 The Socialist candidate in the upcoming Catalan election, Salvador Illa, has found himself at the eye of the storm after Tuesday night's televised debate.
Illa experienced an onslaught of criticism on Wednesday after Nació Digital broke the news that, of the nine presidential candidates, he was the only one who had not gotten a PCR or antigen test as had been requested by public broadcaster TV3.
The politician defended his decision by arguing that Covid-19 tests should not be taken "capriciously" and that they are only necessary for people who have symptoms or have been in close contact with someone who has tested positive.
"What health authorities say should be strictly followed," Spain's former health minister said, claiming that the studio where the debate was recorded—and where antigen tests were offered onsite—complied with all of the necessary safety measures.
Political rivals attack Illa
Yet, as was to be expected, politicians of other stripes did not agree with the Socialist candidate's reasoning.
Pere Aragonès of Esquerra Republicana, Alejandro Fernández of the People's Party, and Junts per Catalunya's Laura Borràs called Illa's behavior "irresponsible" in a rare instance of agreement.
The Republican candidate asserted that, because of the campaign period deal between parties and the media, Illa should have gotten tested regardless of health protocols, and encouraged him to do so before the next televised debate airs on La Sexta.
"You have to set an example, even more so if you were the health minister," Fernández contended.
"He is setting such a bad example!" far-left pro-independence CUP's Dolors Sabater also lamented. "Someone who wants to be in a position of power and who was in one during the pandemic should not do this," she said.
Catalunya en Comú candidate Jéssica Albiach, on the other hand, played down the incident and avoided criticizing the former Spanish health minister, although she did say he should be "setting an example," especially as poll workers are expected to get tested before Sunday's election.
Ciudadanos' president, Inés Arrimadas, went as far as to question whether Illa was worried a negative result would "put an end to his campaign and debates," while party colleague and frontrunner in Catalonia, Carlos Carrizosa, said he was "surprised" Illa had not gotten tested like everyone else.
Meanwhile, Àngels Chacón of PDeCAT, urged the Socialist to get tested to guarantee he did not, in fact, have the virus during the debate.