Presidential hopefuls defend competing visions of education in Catalonia
Candidates express views on school system, independence and business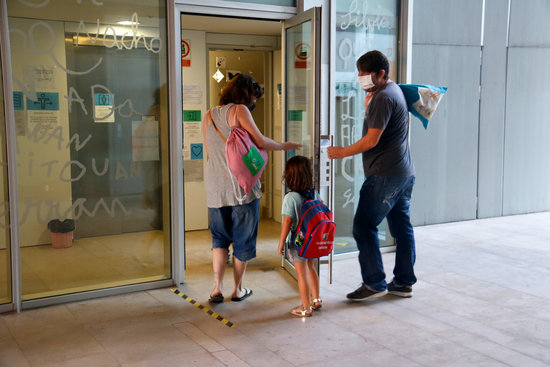 According to Pere Aragonès, Esquerra Republicana's presidential candidate, childcare should be free for children under the age of 3 in Catalonia.
Speaking at a campaign event on Wednesday in which he also defended the need for a referendum on independence, the interim president argued that current daycare center fees are onerous and constitute yet another "financial barrier" for vulnerable households, which is why his party proposes to "progressively" subsidize them over the next term.
This is a proposal Esquerra shares with Jéssica Albiach's En Comú Podem. The left-wing anti-austerity party believes creating an "effective" equality plan for schools would help prevent early school leaving and is also in favor of eventually make school meals free.
Public, private, or both?
PDeCAT, on the other hand, is unlikely to fully back any of these schemes. Indeed, frontrunner Àngels Chacón said that maintaining semi-private schools (known as 'escoles concertades' in Catalan) would condition her party's support for either Aragonès or Junts per Catalunya's Laura Borràs in a potential post-election agreement.
As for childcare centers, Chacón argued on Wednesday that their fees should be covered by the Catalan government and local councils, although she did state that high-quality public schooling should still be available to all, and criticized Ciudadanos and Vox for "endangering" schooling in Catalan.
Language of schooling
Ciudadanos' Carlos Carrizosa, meanwhile, called for what he described as an "educational revolution" in an interview with the Catalan News Agency (ACN) in which he also blasted pro-independence parties. According to him, students should have equal hours of instruction in both Spanish and Catalan and more should be done English-language levels in Catalonia.
Carrizosa told ACN that while he was "disgusted" by Vox's "racism, classism, and xenophobia," he would not rule out a possible post-election agreement with the far-right party. Vox candidate Ignacio Garriga, who describes Catalan language instruction as "pro-independence indoctrination," promptly rejected the characterization and invited Carrizosa to listen to those purportedly affected by irregular migration and squatters.
Independence bloc squabbles
Disagreements between independence forces, which the People's Party likened to European populist movements, were aired during Wednesday's campaign events.
Former Catalan president Carles Puigdemont, of Junts per Catalunya, insinuated Esquerra Republicana, who is open to dialogue with Spain, hoped to be awarded a medal by the Spanish president for "statesmanship."
Puigdemont also claimed his party's candidate, Laura Borràs, was the only person capable of putting an end to "the Spanish government's lethargy, laziness, and comfort of doing nothing."
And while JxCat criticized ERC's strategy, far-left CUP sought to distance itself from JxCat. "JxCat is not one of our own," stated MP Carles Riera after Borràs had described the fellow pro-independence party as such. The party's goal "is to overcome capitalism," Riera explained.
Making Catalonia a good place for business
Meanwhile, Socialist candidate Salvador Illa spoke at lengths about how the pro-independence government had failed to encourage business in Catalonia. "They would hang signs," he said, in reference to the yellow ribbons for which former president Quim Torra was disqualified, "instead of attracting business."