President: 'I want this government to continue, but above all, I want a strong government'
Pere Aragonès urges 'quick' decision from junior partner Junts on whether to exit cabinet amid coalition crisis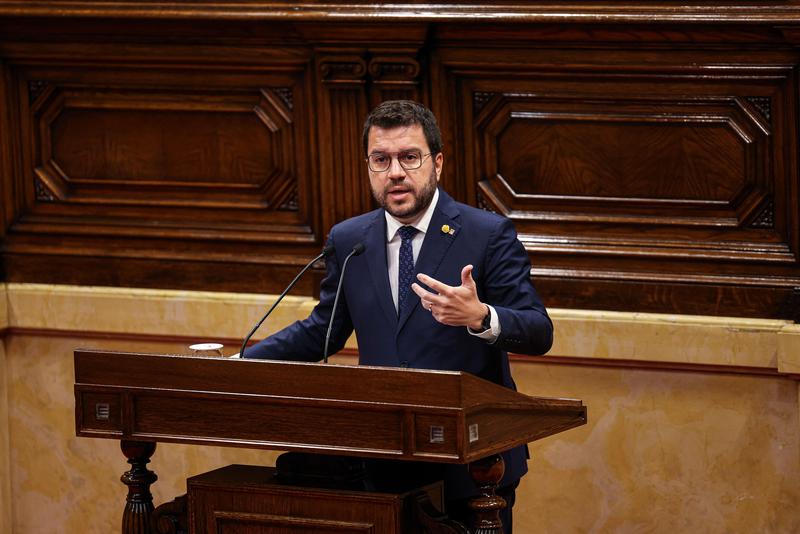 The Catalan president, Pere Aragonès, has said he wants his current coalition government to continue.
However, he prioritizes a strong executive regardless, in order to face the challenges stemming from the current geopolitical situation.
"I want this government to continue, but above all, I want a strong government," he said on Friday during his opening speech in the second session of the annual general policies debate in Parliament.
This week has seen the Catalan executive plunge into crisis when on Tuesday, a spokesperson for the junior coalition partner Junts per Catalunya, suggested that the president, of senior coalition partner Esquerra Republicana, face a motion of confidence in the Catalan chamber if the investiture agreement is not complied with.
As a consequence of this, president Aragonès called an extraordinary cabinet meeting where he asked each Junts minister whether or not they knew Albert Batet would bring up the idea of a motion of confidence, and whether or not they agreed.
Eventually, Aragonès fired his vice-president, Jordi Puigneró of Junts, on Wednesday night, citing a loss of confidence in the highest-ranking cabinet member of the junior coalition partner.
Thursday saw the Junts leadership meet for most of the day at their party headquarters before party co-presidents Jordi Turull and Laura Borràs announced that they would set a deadline of Sunday for both sides to reach an agreement. On October 6 and 7, Junts will ask their membership whether or not the party should continue in the current executive.
Aragonès: Junts must decide over exiting government "quickly"
During his speech on Friday, Aragonès said that Catalonia needs "a government 100% focused on citizens' problems."
Therefore he said he wants Junts to "make their decisions quick," since "hesitations do not contribute" to facing the current challenges posed by rising inflation.
Indeed, he emphasized that he wants the government's attention to return to social and economic problems "in the coming days."
Junts' parliamentary president, Albert Batet, responded in the same debate saying that both parties "still have time" to reach a deal by Sunday and expressed the will of his party to reach a deal.
"Today we will hand you our proposal of guarantees and deadlines on how to comply with the current government coalition deal," he added. Junts believes Esquerra is currently not complying with the investiture agreement, including the path towards independence.
2023 budget up in the air due to government woes
Opposition groups also had their say during the debate, including En Comú Podem, an left-wing party not aligned on the independence question. Its leader, Jéssica Albiach, announced they are freezing talks on the 2023 budget, which is significant given that the party was the only opposition group supporting the government in the 2022 spending plan, key for its approval.
The opposition leader, Salvador Illa, of the Socialists, told Aragonès that he has already lost the support of the parties that supported him as president last year. "This government is now an obstacle for Catalonia, a country with dynamism and entrepreneurship."
According to far-right Vox, the current cabinet "is not up to its task given the hard moments for Catalan families" due to its internal crisis. Its leader Ignacio Garriga also asked Aragonès to lower taxes, referring to the recent controversy involving some Spanish regions easing their fiscal policy in an attempt to lure Catalan companies to move there.
Unionist Ciudadanos urged Aragonès and the independence movement to "stop conditioning politics and self-rule with their partisan battles for the pro-independence voters," its leader Carlos Carrizosa said in the chamber.
As for the conservative People's Party, Alejandro Fernández condemned the fact that "3,000 people" will decide the future of Catalonia, referring to the Junts per Catalunya members, who will decide whether the party continues in or exits the cabinet.
Pro-independence far-left CUP condemned the current coalition crisis as "pathetic" and said that "the people do not deserve it." MP Laia Estrada said that the clash between Esquerra and Junts "is not over their political strategies, but it is a battle for power that is now lasting far too long."