President announces elections once budget is passed
Quim Torra says this term 'is over' after government ally accepted judicial decision stripping him of MP status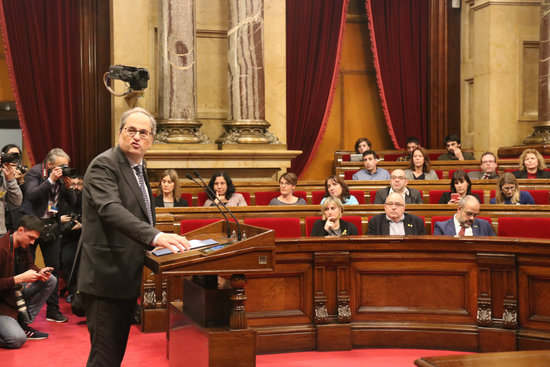 Quim Torra, the president of Catalonia whose MP status was withdrawn on Monday, has announced that he will call fresh elections in Catalonia as soon as the budget is approved.
"This term has reached the end of the road," he said in a surprise statement.
This followed his government ally party, Esquerra, accepting Spain's judicial decision to strip the president of his MP seat, which caused a row in parliament on Monday.
Torra, one of the leaders of JxCat, accused Esquerra of a "lack of loyalty" and called on the pro-independence camp to "return the path of unity."
Yet, although he said the current term "is over," he added he is not going to call an immediate election because there are two issues to be sorted out beforehand.
"This country and its people need a budget passed. It is a project of the country, it's my responsibility, all of our responsibility," he explained.
Torra also said he wants to "explore whether Spain's government has a true will of dialogue and to put an end to repression."
He is due to meet Spain's leader, Pedro Sánchez, on February 6 in Barcelona for the first time in over a year.
Torra's government ally Esquerra issued a statement saying it "respects" his decision to call a snap election and said they also share his idea that the budget and talks with Spain need to be done before ending the term.
"Citizens have to decide new majorities"
Quim Torra expressed outrage at the parliament speaker, Roger Torrent (Esquerra), accepting orders on Monday to withdraw the MP status of Torra, despite still recognising him as president.
The president and his party, Junts per Catalunya (JxCat), sided against it, despite Torrent's move only came after Spain's electoral board stripped Torra of his MP status and the Supreme Court greenlighted it.
"I am sure repression has to be fought without bending the knee," he added in his statement.
"We are facing a new attempt of coup d'état. It was essential to defend the sovereignty of parliament."
"If we don't face our challenges with solidarity and loyalty among pro-independence campaigners, freedom will progressively grow more distant."
Torra urged the movement to rebuild unity and said the best way to do so is a snap election. "Citizens have to decide new majorities."
"The government cannot work without unity or loyalty."
Major clash between pro-independence governing forces
The orders to withdraw the president's status as MP came from the Catalan parliament's top public servant, Xavier Muro, following Spain's Supreme Court backing the decision originally made by the Electoral Authority to oust Torra from his post, causing major clashes between the governing parties in the Catalan parliament on Monday.
In December, the president was found guilty of disobedience for failing to remove banners and symbols deemed partisan from Catalan public buildings.
High-ranking Junts per Catalunya official Laura Borràs claimed that "something broke on Monday," referring to the stripping of Quim Torra's parliament seat, and described approving the budget as an "absolute priority."
"We continue as we were on January 4, when pro-independence groups voted that the Electoral Authority's decision (to oust Torra) was a coup against the Parliament of Catalonia," she added.
Opposition reaction
Opposition parties have reacted, generally calling for elections immediately and questioning the government's wisdom in pressing ahead with votes on passing a budget.
Socialist spokesperson Eva Granados said "It doesn't make sense now to try to pass a budget. We need elections to be called immediately in Catalonia," adding that in her view the government was "broken".
Natàlia Sànchez of far-left pro-independence CUP said that the budget had failed. In a press conference along with other CUP MPs he asked, "If we have a failed government, why are we going to approve a failed government's budget?"
Popular party leader Pablo Casado insisted that Torra was no longer president and said "any decision he makes will have no legal value." Casado called on Spanish president Pedro Sánchez force Torra to "comply with the law."
Similarly, unionist Ciutadans leader in parliament Carlos Carrizosa said that Torra wasn't in a position to "call elections because he is not president". Cs also called on Sánchez to intervene.
In contrast to the other opposition parties, Jéssica Albiach of anti-austerity Catalunya en Comú-Podem welcomed Torra's statement. Elections following the passing of a budget is in fact what the party had been arguing for since agreeing to support the government's 2020 budget proposals.